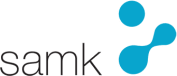 Satakunta University of Applied Sciences
Home ›
Finland ›
Satakunta University of Applied Sciences
WELCOME TO SAMK!
Satakunta University of Applied Sciences (SAMK) is located on the western coast of Finland, in the Satakunta region. There are about 6,000 students in total and more than two hundred international students studying in our campuses every year. Are you ready to join us? SAMK offers both bachelor's and master's degrees in the faculties of Health and Welfare, Logistics and Maritime Technology, Service Business and Technology.
BRAND-NEW CAMPUSES
We have campuses in the biggest cities in the Satakunta region.
SAMK-campus Pori is a brand-new facility located in the city centre of Pori next to the public transportation centre. The new campus is the most modern learning environment in Finland. The modern and versatile campus offers education in business, health care and social services, technology and tourism.
SAMK-campus Rauma has been recently renovated and it is located close to the harbour. The campus is a versatile and international study centre for offshore technology, international business and logistics.
The cities offer spacious and safe living conditions, a lot of green nature and excellent opportunities for leisure activities. The cities are big enough to offer all the necessary services but also small enough to have a cosy and friendly atmosphere.
THE BEST EDUCATION
SAMK is known for its quality of education: according to graduating Bachelor's degree students, SAMK is the best university of applied sciences in Finland in terms of teaching competence. In addition, Master's degree students at SAMK are in general very satisfied with their studies.The survey has been made by Finland's Ministry of Culture and Education
SAMK'S PROFILE AND VISION
SAMK profiles itself as an industrial institution of higher education.
SAMK's profile is based on the needs of the area and SAMK focuses on education, research, innovation and development activities, which support industrial restructuring. Satakunta area has a versatile economic and industrial structure. Therefore, SAMK has to provide research and comprehensive study programmes in technology, business and administration and social and health care even in the future.
Our vision is that all SAMK students will be employed.
Students are provided with the best possible skills for employment by education customized to the needs of the area, comprehensive co-operation with the employment market and an entrepreneurial attitude.
SAMK in figures
Towns: 4
Campuses: 4
Degree students 2017: c. 5,500
Degree students per towns 2017: Pori 3,622, Rauma 1,344, Huittinen 454 and Kankaanpää 111
International students: c. 350
Students in open studies: c. 1,100
Staff members 2016: c. 400, with PhD or Licentiate degrees: 71
Bachelor degree programmes: 19
Master degree programmes: 9
Degree programmes in English: 10
Bachelor degrees 2016: 953
Master degrees 2016: 83
Degrees awarded totally: over 18,000
Locations
Pori
Address
Tiedepuisto Campus
Tiedepuisto 3
28601
Pori
,
Finland
Pori
Address
Tiilimäki Campus
Maamiehenkatu 10
28601
Pori
,
Finland
Rauma
Address
SAMK Campus Rauma
Satamakatu 26
Suojantie 2 (Merimäki)
26101
Rauma
,
Finland
Huittinen
Address
Kuninkainen Campus
Risto Rytin katu 70
32701
Huittinen
,
Finland
Kankaanpää
Address
Fine Arts Campus
Paasikivenkatu 24
38701
Kankaanpää
,
Finland