BSc in
B.Sc. Digital Business
XU Exponential University of Applied Sciences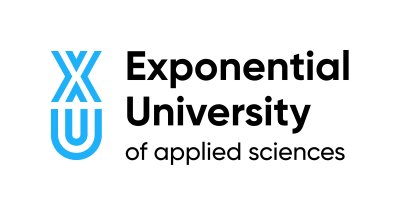 ---
Campus location
Potsdam, Germany
Tuition fees
EUR 7,500 / per semester *
Application deadline
Request info
Earliest start date
Oct 2024
* EU: €760/month | non-EU: €7.500/semester. Up to 40% scholarship for students starting for October intake.
Introduction
For all leaders, who shape the company of tomorrow.
Our Bachelor in Digital Business is a degree programme for all doers who are helping to shape the company of tomorrow. Are you wondering how Google, Uber or Airbnb successfully master the challenges of digitalization? What do their digital business models as well as the processes behind them look like? Which systems and applications do these companies use? What does it take for companies to achieve sustainable success?
Do you wonder why digital start-ups are popping up everywhere? And why are more and more companies investing in their new digital ideas and solutions? Why do corporations rely on digital business and innovation units? Why do they set up think tanks and digital labs on greenfield sites?
Are you wondering how companies, start-ups or agencies develop digital business models, select modern applications and why data is the oil well of the 21st century?
Do you want to know what large consulting firms are up to when they advertise 20 vacancies for digital business managers?
Our bachelor's degree programme in Digital Business not only provides doers like you with answers to your questions, but also gives you the knowledge and skills you need to help shape the company of tomorrow. Would you like to study digital business at the XU Exponential University? Interested in a Bachelor with a future?
A new time needs a new university
If digitisation and innovative technologies are changing our society, if the future of work depends on new digital skills and if whole sectors of the economy are in upheaval – shouldn't our education system also change and provide answers?
We think so
The XU Exponential University near Berlin is Germany's first university that focuses exclusively on digitization and technology. At Studio Five on the premises of Studio Babelsberg in Potsdam, we have created a place that focuses specifically on the training, promotion and networking of future heroes* of digital change. Our university in Potsdam is the perfect place for you!
XU Exponential University Potsdam
Study in a place where revolutionary ideas become innovations.
Every innovation is based on a groundbreaking idea. But an idea is only really good if it is implemented. This is exactly what our university near Berlin is all about: developing new ideas for the innovations of tomorrow. Ideas that we want to set in motion together with you.
Learning through interaction
Frontal teaching is deprecated: We rely on interactive experiences and flexible learning settings in small groups – even outside the lecture hall. Studying at XU in Potsdam means practical project work, experimenting, and prototyping.
Build relationships
Our global expert network supports you on your way to success: At our university near Berlin, you will be taught by leading practitioners* from business and start-ups as well as the best minds in technology, business and research.
Creating perspectives
Knowledge is power: At XU in Potsdam you will gather practical experience and gain access to current market knowledge from experts – first hand. So you get everything you need for your digital future – and for turning your revolutionary ideas into reality.
We are officially recognized
The XU Exponential University of Applied Sciences was officially recognized by the Ministry of Science, Research, and Culture of the state of Brandenburg in 2018. The accreditation was carried out by the Central Evaluation and Accreditation Agency (ZEvA), which confirmed the development of sustainable and innovative study programmes to the university as part of the accreditation process.
How you can benefit from our innovative, digital teaching offers
Whether communication, production, trade or the world of work: the digital transformation has arrived almost everywhere. Only the universities and colleges follow this development only hesitantly. There is still little awareness of digital change, the need for lifelong learning and digital literacy. The consequence of this unwillingness to change and the lack of technical resources is a teaching offer that is no longer up to date.
We do things differently.
As a university for digitisation, we see it as our task to reinvent ourselves again and again. We not only offer you an apprenticeship with a fixed degree – we also prepare you in the best possible way for the various challenges in technology, business and research. At the XU Exponential University near Berlin, you get access to global knowledge and the chance to further your education – interactively and practically.
Curriculum
Let's go – your first semesters
In your first semesters, everything revolves around digital business processes and models. This also includes the systems behind it. You will learn how to evaluate traditional and existing business models and how to develop and implement new digital business models. You will work with information, communication and transaction systems, data, data structures and databases as well as apps that support you in managing business challenges in the context of digital transformation.
Another focus of your first semester is communication and innovation management, where you will learn how to apply modern communication and collaboration methods and techniques effectively and efficiently. You will work with innovation methods and techniques, including design thinking and lean start-up methods. You will develop and test the latest digital methods and techniques in a playful way and acquire a high degree of digital tool competence.
If you are a full-time student at XU Exponential University, you will study at one of our international partner universities in the fourth semester. You have the choice at which of our partner universities you would like to spend your semester abroad. You have the choice at which of our partner universities you would like to spend your semester abroad.
Final spurt – your last semesters
You will deepen your acquired digital skills and will select at least two elective subjects. If you want to know more, you may also choose other subjects.
And last but not least – your bachelor thesis
In your last semester, you will complete your studies by writing a bachelor thesis. In your bachelor thesis, you will address concrete and practical questions in the digital domain. You can work on your thesis in cooperation with businesses, whether it be large corporations or start-ups.
Your studies. Your future. Your decision.
This also applies to your elective subjects. You decide which specialization suits you best. When making your choice, be sure to consider the experience you have gained from jobs, internships and projects and the demands that the job market places on you.
Options include
Digital Marketing Management
Digital Mobility Management
Digital Retail Management
Start-up Management
Digital Research and Development
Digital Technology Management
Career Opportunities
Depending on which specialization you have chosen, you can take off in the following areas, for example:
Digital Business Model Development
Digital Marketing Management
Digital Technology Management
Digital Mobility Management
Digital Retail Management
Digital Start-up Building
Digital Research and Development
Digital Business Management
Your bachelor's degree in Digital Business opens up a wide range of job opportunities, as the need for well-trained experts is high and rising. And this holds true in numerous industries and areas. Your digital expertise and your mindset are in demand in businesses, start-ups, public authorities and non-governmental organizations as well as in science, research and development.
Today, companies increasingly need more and more well trained experts who can contribute to the development of new digital business models and processes while also making them competitive and scalable. In the wake of digital transformation, yesterday's successes are no longer a guarantee for the success of tomorrow.
As an expert, you are also sought after in science, research and development when introducing new digital technologies and digital innovations, for example.
The same applies to experts that use digital marketing concepts and instruments to reach new target groups and promote brand loyalty.
Is all this too conventional for you? Then go and work for yourself. Our professors and the team at our Career Service Center are happy to support you.