UH Hilo at a Glance
The University of Hawaiʻi at Hilo is a state university with a private college atmosphere. We offer small class sizes, a low faculty-to-student ratio, and opportunities for research and hands-on learning. As a public university, the University of Hawaiʻi at Hilo has a unique position in the State—and country—by offering a rigorous and engaging curriculum at an affordable tuition rate. The admission requirements are moderately selective, allowing above-average students the opportunity to enjoy the benefits of a small school experience. UH, Hilo is accredited by the Accrediting Commission for Senior Colleges and Universities of the Western Association of Schools and Colleges.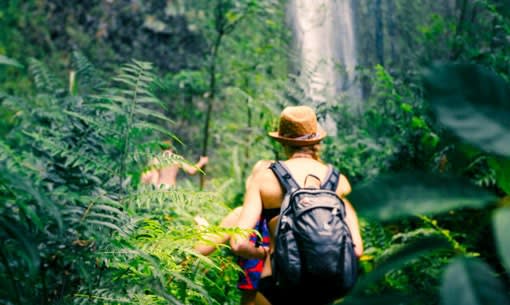 Established:
1947 when UH Mānoa begins the Hilo program
1970 as the University of Hawaiʻi at Hilo
Role: Public Liberal Arts and Science University of Hawaiʻi
Calendar:
2 semesters of 16-17 weeks each and
a four-week intensive summer session and
a six-week regular summer session
Enrollment: 4,043 Faculty to Student Ratio: 1:14 Average Class Size: 20
Campus Size:
115 acres - Main Campus
33 acres - University Village Phase I (under development)
10 acres - Pacific Aquaculture and Coastal Resource Center
110 acres - Panaʻewa Farm
163 acres - UH Hilo Science and Technology Park (Makai)
324 acres - UH Hilo Science and Technology Park (Mauka)
Degrees:
Bachelor of Arts (BA)
Bachelor of Science (BS)
Bachelor of Business Administration (BBA)
Bachelor of Science in Nursing (BSN)
Master of Arts (MA)
Master of Education (MEd)
Master of Science (MS)
Doctorate (Ph.D.)
Doctor of Nursing Practice (DNP)
Doctor of Pharmacy (Pharm.D.)
Majors:
37 Undergraduate
8 Graduate
4 Doctorates
Tuition: See the Tuition & Fees page
The Most Diverse Students
In 2014, UH Hilo was named as the most diverse four-year public institution in the country by the Chronicle of Higher Education.
Why Students Choose UH Hilo
On Hawai'i Island, inspiration is everywhere; it's in the land, sky, and sea, in the people, we meet on forest trails, local markets, and in our classrooms. Built on the coastal slopes of the world's largest mountain and centered in the Pacific Ocean, the University of Hawai'i Hilo challenges empowers and inspires our students. As a university community, we draw our inspiration from the people we call 'ohana, and the island we call home.
Inspired by the 'Āina
In Hawai'i we know the land, the 'āina, sustains us. The earth is more than a resource; it is our source of life. Surrounded by an incredible combination of high mountains and deep ocean, lush rainforest and arid fields of lava, we are inspired to understand our world through bold scholarship and care for our environment through a responsible relationship with our living earth and the community of life it sustains.
Inspired by Discovery
Our island home was discovered by courageous voyagers and their legacy inspires us to follow in the wake of their double-hulled canoes. A UH Hilo education is designed for discovery; from sea stars to supernovae, our focus on hands-on learning allows our students and expert faculty to discover the world together. Research in the field, internships with local businesses and organizations, small class sizes that encourage the honest exchange of ideas, and our university supported exchange programs all come together to inspire our students to discover their talents and passions by exploring the world.

Inspired by Innovation
By cultivating creativity, critical thinking, and cultural understanding, we prepare graduates that are ready to tackle 21st-century challenges and move the world forward. Whether our students are restoring native forests, improving the health of our local community, composing powerful stories, or designing safe landing for the first manned mission to Mars, they take inspiration from centuries of innovation to formulate creative solutions rooted in the hard-earned wisdom of those that came before.

Inspired by Each Other
The unique heritage of Hawai'i weaves together a lei of cultures that honor our shared humanity and challenges us to learn from each other and see the world through a different lens. Our dynamic programs and vibrant location draw students from across Hawai'i, the Pacific, and the world, creating academic and social opportunities at UH Hilo that can be found nowhere else on earth.
Inspired by You
When it comes down to it, we exist to prepare our students to empower their lives and transform the world, and you are our greatest inspiration. Deeply committed to creating that opportunity, UH Hilo is leading higher education into the future by providing a rigorous, residential college experience within reach. With the most affordable resident tuition rate in the state and $45 million awarded annually in financial aid and scholarships, we strive to break down barriers to higher education and open the doors of opportunity. At the University of Hawai'i Hilo, we find our inspiration in the unique community and amazing environment that surrounds us every day. If there was ever a place to be inspired, this is it. Join us, and find what inspires you.