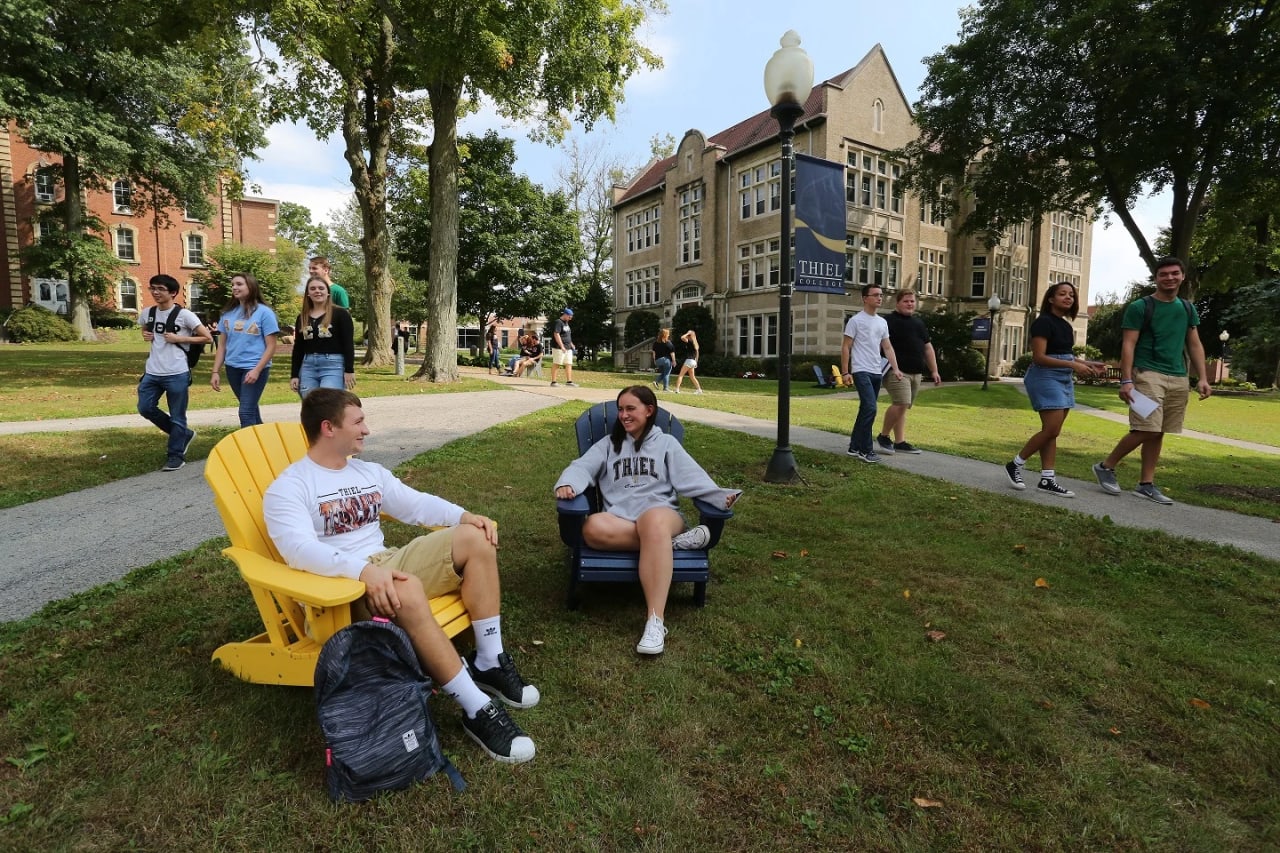 BSc in
Bachelor of Science in Biochemistry
Thiel College

Key Information
---
Tuition fees
USD 33,620 / per year *
Application deadline
Request info
Earliest start date
Request info
* full-time tuition 2022-2023
Introduction
Biochemistry is an interdisciplinary science that studies the structure, composition, and chemical reactions of substances in living systems. Students earning a degree in biochemistry from Thiel College will have a unique, multidisciplinary foundation in chemistry, biology, and physics. This well-rounded approach, along with Thiel's liberal arts curriculum, prepares our students for work in a variety of fields upon graduation!
Major Features
You will know how to conduct an internal or external research project.
Demonstrate knowledge of the structures and functions of biological molecules and explain molecular pathways associated with cellular metabolism of the major classes of biochemical compounds.
Possess scientific literacy and problem-solving skills associated with the main branches of chemistry: analytical, biochemistry, inorganic, organic, and physical.
Be prepared for chemistry-related employment in the medical, pharmaceutical, biotechnology, or related fields or biochemistry-related graduate or professional programs including medical, dental, or veterinary schools.
Curriculum
Major Requirements
The B.S. degree in biochemistry requires all of the courses in Section A and D, one course in Section B, one in Section C, and two courses in Section E. It is expected that the course from Section B will have a biochemistry focus.
Section A
CHEM 140 General Chemistry I
CHEM 160 General Chemistry II
CHEM 200 Organic Chemistry I
CHEM 210 Organic Chemistry II
CHEM 240 Quantitative Analysis
CHEM 315 Physical Chemistry - Fundamentals
CHEM 345 Biochemistry I
CHEM 348 Biochemistry II
CHEM 405 Junior Seminar
CHEM 406 Capstone
CHEM 495 Independent Study
Section B
CHEM 3XX Biophysical Chemistry
CHEM 3XX Biological Analytical Chemistry
CHEM 415 Biological Inorganic Chemistry
CHEM 440 Advanced Topics in Biochemistry
Section C
MATH 181 Calculus I
MATH 182 Calculus II
PHYS 174 Introductory Physics I (calculus-based)
PHYS 184 Introductory Physics II (calculus-based)
BIO 145 Foundations of Biology
Section D
BIO 290 Cell Biology
BIO 294 Human Physiology
BIO 322 Genetics
BIO 343 Developmental Biology
BIO 284 Human Anatomy or BIO 282 Comparative Chordate Anatomy
Career Opportunities
A degree in biochemistry from Thiel College is a gateway to many career paths or graduate schools. Knowledge of the chemical reactions of substances in living systems applies well to many health care careers including the fields of medicine, dental, pharmaceuticals, and even veterinary. This program opens the door to other options as well such as agricultural chemicals, biotechnology, and consumer products industries!
Scholarships and Funding
Scholarship Opportunities
Thiel College offers scholarships to students for reasons such as academic success, community service or involvement, exemplary leadership, and more! The scholarships available to biochemistry majors are:
Marion G. Resch Science Scholarship at Thiel College
Bennett-Heald-Safford Endowed Scholarship Fund
Dr. Florence West Tribute to Dr. Bly
The Dr. Judith A Crissman '64 Endowed Scholarship Fund
The William B. Frank Minority Scholarship in the Physical Sciences
Emil A. Lucas Chemistry Scholarship
The Maenpa Family Biotechnology Endowed Scholarship Fund at Thiel College
Elizabeth McElhaney Scholarship
J. Scott Morrison Endowment for Science and Religion
Paul H. Ralston Chemistry Award Fund
Charles E. Rogers '36 and Ruth G. Rogers Education Scholarship
The Charles '57 and Edna Semroc Scholarship Fund
Arthur E. Smith Scholarship Fund
Ruth Staudenmayer, R.N. Memorial Scholarship
TWC Amelia Earhart Scholarship
Irene Wintersteen Memorial Science Scholarship