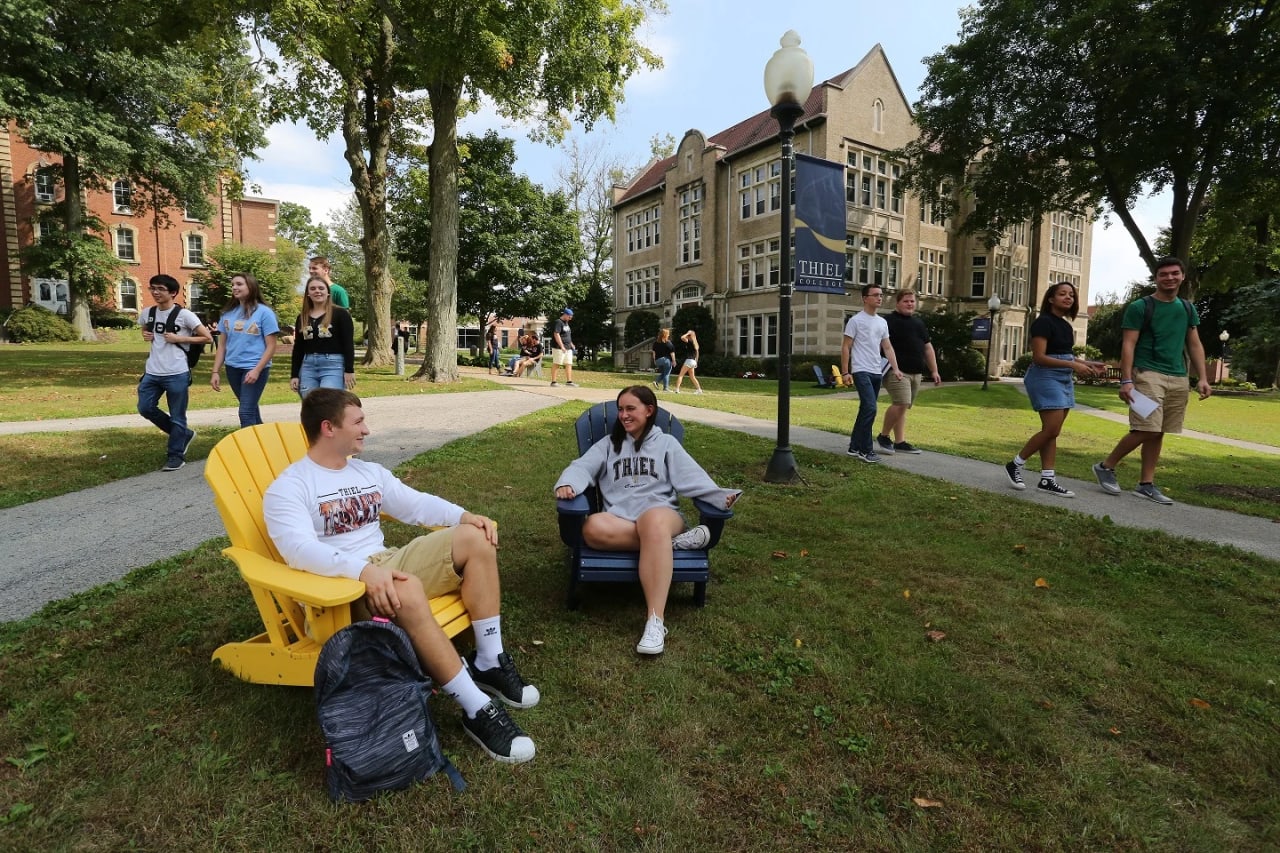 BA in
Bachelor of Arts in Public Policy
Thiel College

Key Information
---
Tuition fees
USD 33,620 / per year *
Application deadline
Request info
Earliest start date
Request info
* full-time tuition 2022-2023
Introduction
Public policy students at Thiel College have the opportunity to see all sides of serious public problems and to make informed decisions that can help to improve the lives of others. Public policy officials have to be prepared to solve problems ranging from crime, health care, education and so much more. To prepare you for this type of work, you will take a wide range of courses in order to successfully contribute to the policy-making process.
Major Features
Study closely with professors who have real experience in your field.
Trace public policies' origin and debate to see how legislative demands, the interests of constituents and groups, and economic realities all shape policy.
Assess the impact of policies on their intended beneficiaries.
Complete a capstone project where you will gain real-world experience conducting applied policy research for an external client.
Program Outcome
Thiel's public policy program teaches students the intricacies of the policy-making process, while also encouraging them to delve deeper into a specific concentration area. The public policy major helps students to understand environmental constraints confronting policy initiatives, how to evaluate policies using external criteria, and how to assess alternative policy approaches and solutions. The program is committed to nurturing leaders who will use skills developed in the program to contribute in meaningful ways to improve the lives of others. These skills are useful within government agencies, non-government organizations, and philanthropic entities. Concentrations focus chiefly on issues involving health, the environment, social justice, and international affairs.
The educational goals for the public policy major are:
To trace the origin of and debate over public policies, looking at factors like how policy is legislative demands, interest groups, constituent interests, and economic realities;
To assess the impact of policy on their intended beneficiaries;
To communicate complex ideas clearly and persuasively in written and oral forms;
To demonstrate mastery of the above outcomes in the senior capstone project by conducting applied policy research.
A student who graduates from Thiel College with a major in public policy will:
Be able to clearly state and comprehensively describe an issue/problem, delivering all relevant information necessary for full understanding;
Be able to develop a comprehensive analysis of an issue/problem that integrates information from multiple sources and questions them thoroughly;
Be able to thoroughly analyze his or her own and others' assumptions and carefully evaluate the relevance of contexts when presenting a position;
Be able to take into account the complexities of an issue while acknowledging the limits of a position;
Be able to draw conclusions that are logical and reflect the student's informed evaluation and ability to place evidence and perspectives in priority order;
Be able to communicate complex ideas clearly and persuasively in written and oral forms.
Curriculum
Major Requirements
For the first two years, students are expected to take foundational courses that will foster an understanding of the political and economic realities contributing to the policy-making process. Simultaneously, students will begin to take classes within their concentration to delve deeply and meaningfully into an issue of interest. In their junior year, students will take a policy evaluation course, to help them understand the complexities of the analysis. This will be followed by a capstone experience in their senior year, where students will conduct applied policy research, most likely for a non-profit organization or a local government agency.
Foundational courses (22 total credit hours)
Seven required courses (22 credit hours):
POSC 116 American Government
POSC 226 State and Local Politics
POSC 236 Public Policy
BADM 374 Principles of Management or
POSC 336 Public Administration
ECON 211 Principles of Macroeconomics or
ECON 221 Principles of Microeconomics
POSC 395 Policy and Program Evaluation
POSC 495 Public Policy Capstone
Environmental Biology Concentration (28 – 29 total credit hours)
Four required courses (17 credit hours):
ENSC 111 Introduction to Environmental Studies
GEOL 150 Earth Systems
ENSC 225 Geographical Information Systems
BIO 145 Foundations of Biology
Three of the following (11 – 12 credit hours):
BIO 116 Conservation Biology
BIO 262 Animal Systematics
BIO 263 Plant Systematics
BIO 212 Microbiology
BIO 222 Entomology
BIO 272 Animal Behavior
BIO 273 Toxicology
BIO 295 General Parasitology
BIO 302 Plant Physiology
BIO 394 Aquatic Ecology
Career Opportunities
As a public policy graduate from Thiel College, you will have the critical thinking skills in place to analyze difficult problems that face our society. This program prepares you for careers in government, lobbying the government, non-profit and for-profit as well as graduate school. Here are some examples of the jobs available to public policy graduates:
Non-Profit Organization Program Managers earn a median annual salary of $50,163* ensuring that the projects they oversee are in line with the stated goals of their organization.
Management Consultants earn a median annual salary of $85,953* for identifying current problems and potential risks and helping their company to overcome them.
Policy Analysts earn a median annual salary of $56,525* working for the government, NGOs, and for-profit companies to change, adjust, or implement new public policies, regulations, and laws.
Urban Planners earn a median annual salary of $55,115* analyzing economic, environmental, and social trends to map out the most effective use of a community's land and infrastructure.
Public Policy Associates earn a median annual salary of $49,059* lobbying government officials, creating networks of support and funding, and developing and implementing legislative and advocacy campaigns.
*Payscale.com
Scholarships and Funding
Scholarship Opportunities
Thiel College offers scholarships to students for reasons such as academic success, community service or involvement, exemplary leadership, and more! The scholarships available to political science majors are:
Dr. H. Reginald Belden Pre-Law Student Scholarship
William Randolph Hearst Scholarship Endowment Fund
Dr. Roy H. Johnson Memorial Award
The Dr. Roy H. Johnson Political Science Awards Fund
Luther Malmberg Scholarship Fund
Gilbert & Dorothy J. Taylor Scholarship
John S. Yocca Memorial Scholarship for Political Science