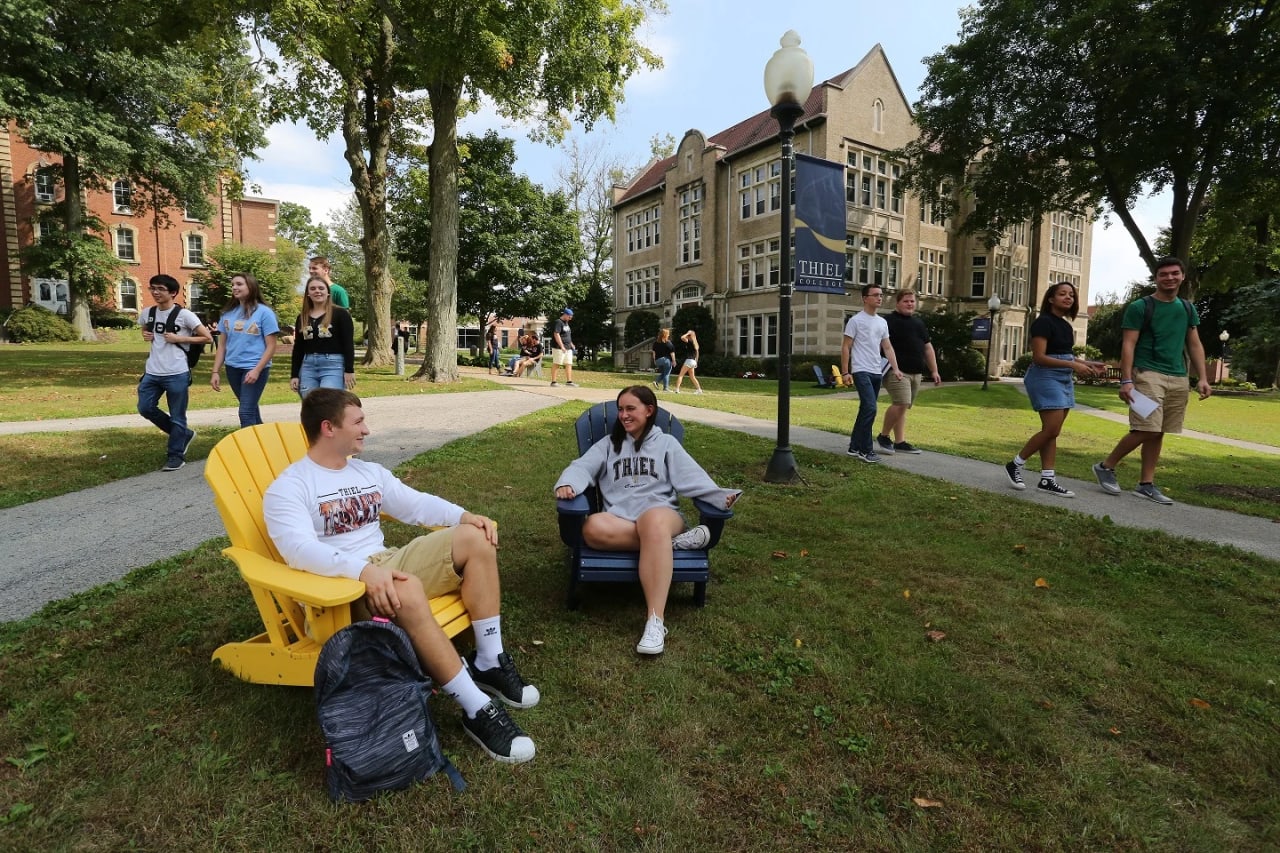 BA in
Bachelor of Arts in Media & Journalism - Digital & Print Media Track
Thiel College

Key Information
---
Tuition fees
USD 33,620 / per year *
Application deadline
Request info
Earliest start date
Request info
* full-time tuition 2022-2023
Introduction
The term "media" includes many forms of mass communication to reach a wide variety of audiences — ranging from the internet, newspapers, magazines, newsletters, and books, to television, radio, film, and video.
The media & journalism major offers and requires a variety of foundational and skills courses to help prepare students to enter the "real world" of media. The blending of media law and media ethics with hands-on skills is inherent in the courses offered in this major. The digital and print media track is designed for students planning to work in digital-only news media, newspapers, magazines, newsletters, and news services (such as Associated Press), and their digital media (websites, social media, and mobile media).
Major Features
Students will learn the professional skills and knowledge necessary for success in media-related careers.
Demonstrate academic knowledge and skills necessary for graduate studies in such fields as journalism, mass communication, media studies, film studies, public relations, or general communication studies.
Gain an understanding of the limited number of legal issues and a large number of ethical issues in media work created by First Amendment freedoms.
Curriculum
Major Requirements
Digital and Print Media Track
COMM 220 Introduction to Digital and Print Journalism
COMM 280 Survey of Mediated Communication
COMM 281 Media Literacy
COMM 315 Digital and Print Feature & Opinion Writing
COMM 325 Communications Ethics
COMM 340 Public Relations
COMM 350 Print Media Production
COMM 360 Co-Curricular Practicum I: The Thielensian
COMM 365 Co-Curricular Practicum II: TCTV
COMM 371 Co-Curricular Practicum III: WXTC
COMM 455 Media Law and Regulation
COMM 470 Senior Seminar
COMM 480 Communication Internship
CIS 113 Data Management Applications
CIS 129 Fundamentals of Information Systems
CSCI 139 Web Design and Development
CSCI 159 Introduction to Programming
Program Outcome
A student who graduates from Thiel College with a major in media and journalism will:
Demonstrate the knowledge and skill to create information/education message products;
Be able to effectively conduct fact-based research in the field;
Understand the ethical issues in media work created by First Amendment freedoms and be able to act in ethical ways;
Demonstrate the ability to prepare, plan and execute production plans;
Demonstrate the ability to effectively communicate in oral and written forms in the field.
Career Opportunities
Thiel College students have gone on to be active members in various fields of journalism and media. We currently have alumni working as newspaper reporters, broadcast television reporters, an editor for a network television program, social media managers, and much more!
Scholarships and Funding
Scholarship Opportunities
Thiel College offers scholarships to students for reasons such as academic success, community service or involvement, exemplary leadership, and more! The scholarships available to media & journalism majors are:
The Roger '52 and Paula G. Blatter Scholarship
William Randolph Hearst Scholarship Endowment Fund
Mister Rogers Scholarship