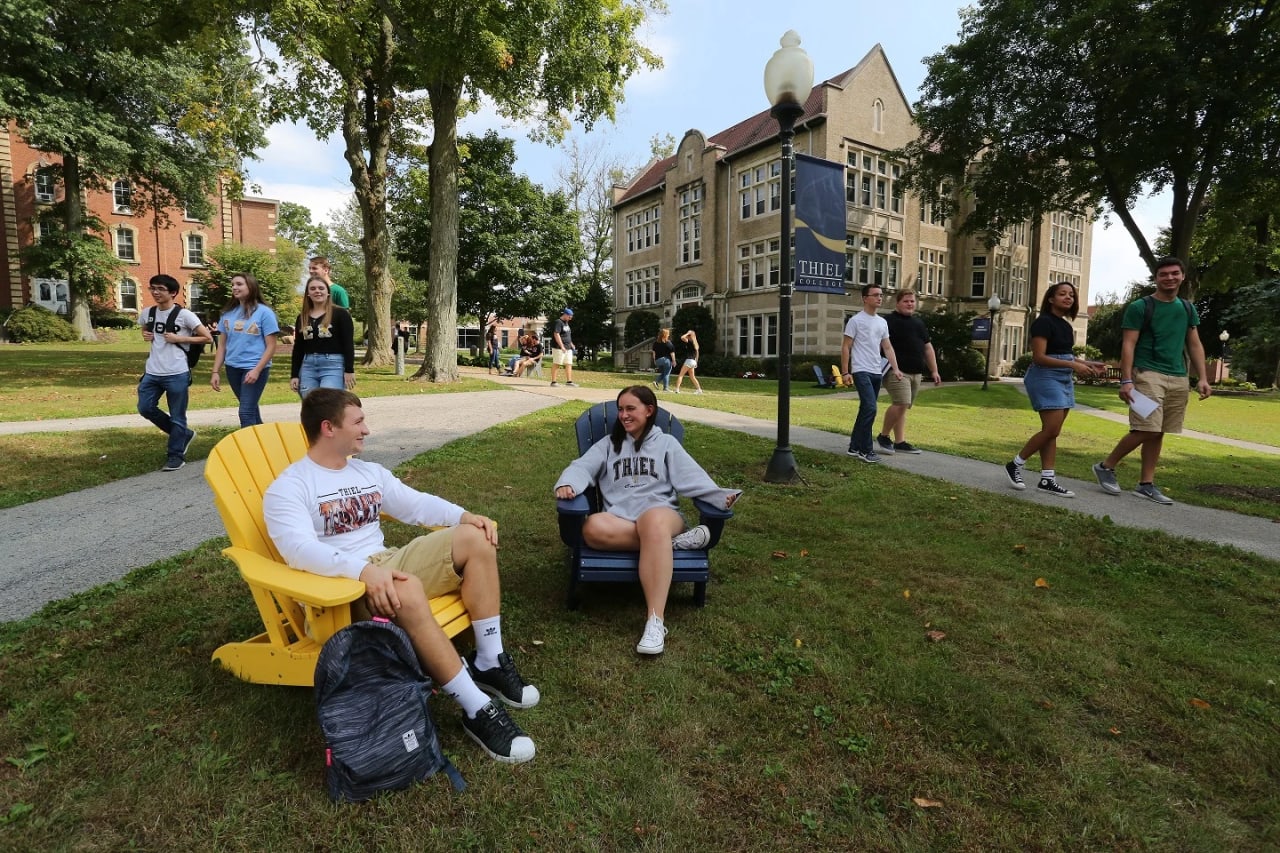 BA in
Bachelor of Arts in Business Administration - Sports Management Track
Thiel College

Key Information
---
Tuition fees
USD 33,620 / per year *
Application deadline
Request info
Earliest start date
Request info
* full-time tuition 2022-2023
Introduction
The program provides a broad understanding of the American business system and establishes a base for good citizenship in our democratic society, as well as teaches basic business principles and fundamental skills essential for success in either a large or small business.
Led by a team of experienced faculty, students will have hands-on opportunities to work with businesses in the region to enhance their classroom experiences.
Major Features
Understand the basic business management functions.
Develop competency in data analysis techniques, including the use of spreadsheets; and databases.
Gain an understanding of the ethical dilemmas faced by business managers.
Develop interpersonal skills and learn to be a valuable member of a team.
Be prepared for entry-level employment in the field of business.
Curriculum
Major Requirements
Core Requirements (All Tracks)
ACCT 113 Principles of Accounting I
BADM 233 Managerial Accounting
ECON 211 Macroeconomics
ECON 221 Microeconomics
MATH 211 Elementary Statistics
CIS 111 Word Processing Applications
CIS 112 Spreadsheet Applications
CIS 113 Data Management Applications or CIS 122 Adv. Spreadsheet Applications
CIS 129 Fund of Info Systems
BADM 355 Business Law I
BADM 356 Business Law II
BADM 374 Principles of Management
BADM 384 Business Communication
Sports Management Track
BADM 105 Introduction to Sports Management
HPED 314 Coaching Organization & Admin.
BADM 450 Facilities Management Practicum
BADM 452 Sports Information Practicum
INDS 155 Principles of Ethical Leadership
One of the following:
BADM 210 Principles of Marketing
BADM 324 Advertising
BADM 490 Strategic Management
Career Opportunities
Graduates from Thiel College's business program have gone on to become successful business owners and community leaders in the local community, the western Pennsylvania region, and beyond! Whether it's becoming a Fortune 500 C-level executive, the owner of a local landscaping company, or attending graduate school, Thiel business graduates have done it all. In fact, the Arthur McGonigal Department of Business Administration & Accounting at Thiel College boasts the largest number of currently serving members on the College's Board of Trustees!
Scholarships and Funding
Scholarship Opportunities
Thiel College offers scholarships to students for reasons such as academic success, community service or involvement, exemplary leadership, and more! The scholarships available to business administration majors are:
The August and Susan Bamford Scholarship
Dr. Morrison H. Beach Scholarship
The Roger '52 and Paula G. Blatter Scholarship
The John T. Egbert Jr. and Phyllis Faries Egbert Scholarship
Daniel A. Hamo Scholarship
Huether Foundation Endowment for Business
Helen Patterson Hill Memorial Scholarship
Lend-A-Hand Scholarship
The Rev. Dr. Kenneth R. May Scholarship Fund
The Wise Family Endowed Scholarship Fund