BSc in
Bachelor of Science in Sport Management
Slippery Rock University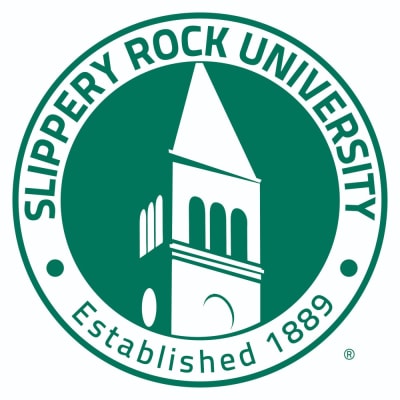 Key Information
---
Tuition fees
USD 18,472 / per year *
Application deadline
Request info
Earliest start date
Request info
* tuition for international students
Introduction
Slippery Rock University's Bachelor's in Sport Management program has received specialized accreditation through the Commission on Sport Management Accreditation (COSMA) located in Fort Collins, Colorado, USA. It is one of the oldest and most well-known in the country.
A 12-credit internship at a sports-related agency is required during the last semester of the program, giving students hands-on experience in the field. A minor in Business is a valuable complement to this major. SRU also offers a Sport Management minor for those pursuing other majors.
Slippery Rock University is accredited by the Commission on Sport Management Accreditation (COSMA).
The sport management degree program(s) at Slippery Rock University has received specialized accreditation through the Commission on Sport Management Accreditation (COSMA) located in Fort Collins, Colorado, USA. The sport management program in the following degree is accredited by COSMA:
Bachelor of Science
Our students benefit from the external verification of quality provided by COSMA's rigorous accreditation process. We were the first program in the United States to receive this accreditation in 2010.

Career Opportunities
Sport Management Career Expo
The Sport Management Career Expo, held annually, is an opportunity for students and families to connect with faculty, current sport management students, and alumni during a panel discussion. The Spring 2020 date is pending.
Careers, Clubs, and Internships
Students pursuing their Bachelor's in Sport Management degree often join the Sport Management Alliance organization on campus. The group attends conferences and gives students the opportunity to meet people with similar career interests.
Sport management majors have gone on to work as account managers, athletic directors, CEOs, communication managers, event coordinators, and more. Sports-related knowledge is a unique asset to not only the sports industry but to other business areas as well. There are numerous areas of sport management you can pursue a career in, including:
Accounting
Communications
Community relations
Economics
Finance
Management
Marketing
The 12-credit internship gives students the chance to experience the best of what sport management has to offer. In the past, SRU has helped place students with the Pittsburgh Steelers, Miami Dolphins, Florida Panthers, Cleveland Cavaliers, USA Rugby, numerous Division I colleges, and more sports organizations.

Program Outcome
The Sport Management faculty has established five program outcomes for the undergraduate program that are implemented on a daily basis inside and outside the classroom. These program outcomes are an extension of the mission statement and connect to the university's outcomes. In order to achieve our mission, these outcomes are assessed using a variety of direct and indirect performance indicators.
Communication: Communicate effectively in speech and in writing, using appropriate information sources, presentation formats, and technologies.
Diversity, Ethical, Legal, and Financial Practices: Integrate diverse, ethical, legal, and financial principles and understand their impact on decision-making in sport managerial situations.
Technological and Global Interdependence: Demonstrate proficiency in the use of current technologies and exhibit an understanding of the global sport industry.
Professional Proficiency and Development: Apply knowledge and skills to meet professional competencies within sport industry.
Critical Thinking and Problem Solving: Demonstrate ability to identify, analyze, synthesize and evaluate information and ideas through professional performance in simulated sport industry environments such as an internship, practicum or volunteer experience.

Curriculum
Why Major in Sport Management?
If your dream is to work behind the scenes for a sports organization, SRU's Sport Management major is perfect for you. As the first accredited program of its kind in the nation, SRU provides students with professional opportunities to build the knowledge and skills required of sports management professionals. We boast a strong alumni base, offering networking opportunities to help you land a career-advancing internship in sports.
SRU faculty are industry professionals and will provide you with valuable experience-based advice in addition to your classroom education. With an emphasis on experiential learning, you will have ample opportunity to put your education into practice before graduation.
What Will You Learn?
Sport Management students learn the business side of sports: everything that goes into planning, promoting, financing, sponsoring, marketing, communicating, and operating sporting events and organizations. Skills you will acquire include:
Budgeting and finance
Diversity and management
Management ethics
Sales and fundraising
Sport communication and technology
Sport law
Sport marketing