BSc in
BS in Sport Management
Spring Hill College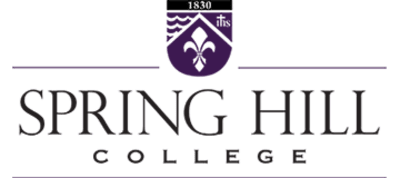 Key Information
---
Campus location
Mobile, USA
Study format
Distance Learning, On-Campus
Tuition fees
USD 411 / per credit
Application deadline
Request info
Earliest start date
Sep 2023
Introduction
In Spring Hill College's online sport management degree program, you'll combine a comprehensive business education with a foundation in sport marketing, facilities management, fundraising, sports law, and governance.
Many leadership positions in the sports industry require a bachelor's degree in sport management or a related area. You can prepare to advance in your career while gaining skills that you can immediately apply to your current position. Employers consistently report that graduates of Spring Hill's sport management bachelor's degree program are well-rounded critical thinkers who are assets in their workplace.
Learn in a Flexible Online Environment
As you work through the online Bachelor of Science in Sport Management, you'll receive individualized support from both faculty and staff. You can expect:
An asynchronous format. Listen to lectures, read texts, and complete coursework on your time.
Full-time and part-time program options.
An experienced and dedicated faculty.
A collaborative and diverse learning experience.
Curriculum
What You'll Learn
Your online sport management courses will cover essential topics such as the psychology of sport, media writing, sports law, sports facilities management, and sports marketing and promotion. You'll also get to choose two elective courses from a varied list so that you can tailor your degree toward your ideal career.
120 total credits required
The online sport management bachelor's degree from Spring Hill College covers a comprehensive overview of sports-related topics, including sports media, sports ideologies, sports law, and more. You'll have the opportunity to dive deeper into your interests during a special topics course, along with completing an optional 3-credit-hour internship at a site convenient for you.
You can complete the Bachelor of Science in Sport Management in four years. Transfer the maximum of 96 credits to finish faster.
Lower Division Courses
ECO 101 Principles of Macroeconomics
ECO 102 Principles of Microeconomics
CIS 115 Applications in Computer Information Systems
ACC 201 Principles of Accounting I
ACC 202 Principles of Accounting II
BUS 263 Business Statistics
BUS 264 Management Science
MTH 111 or 121 Pre-calculus or Calculus I
BUS 210 Business Communication
BUS 220 Business, Society and Sustainability
Upper Division Courses
BUS 301 Business Law I
BUS 320 International Business
MGT 301 Management Principles
MKT 311 Marketing Principles
FIN 301 Financial Management
CIS 381 Information Systems
PHL 313 Business Ethics
BUS 499 Business Strategy and Policy
Required Courses
PSY 1## Psychology of Sport
BUS 201 Personal Financial Literacy
WRI 251 Introduction of Media Writing
SOC 385 Sociology of Sport/Leisure
MKT 364 Media Planning & Measurement
SPM 401 Sports Law
SPM 410 Sports Facilities Management
SPM 420 Sports Marketing and Promotion
Choose two from the following:
SPM 495 Special Topics in Sports Management
BUS 496 Business Internship
Program Outcome
Identify and understand potential liability risks when hosting a sporting activity, and what measures should be taken to eliminate or reduce risks.
Integrate effective communication, planning, and leadership strategies that lead to successful management and operation of sport facilities.
Learn the skills of inquiry and analysis, plus critical thinking and reading within the business ethics purview.
Apply advanced business principles in the functional areas of sport management.
Career Opportunities
With your sport management bachelor's degree, you'll be able to pursue several career paths in the field, such as:
Coaching
Facility management/operations
Interscholastic and intercollegiate athletics
Professional sports
Sports marketing and promotions
Media relations
The employment of sports-related occupations is projected to grow faster than average at 7% through 2029, according to the U.S. Bureau of Labor Statistics. This growth will add over 60,600 new jobs.*
*U.S. Bureau of Labor Statistics