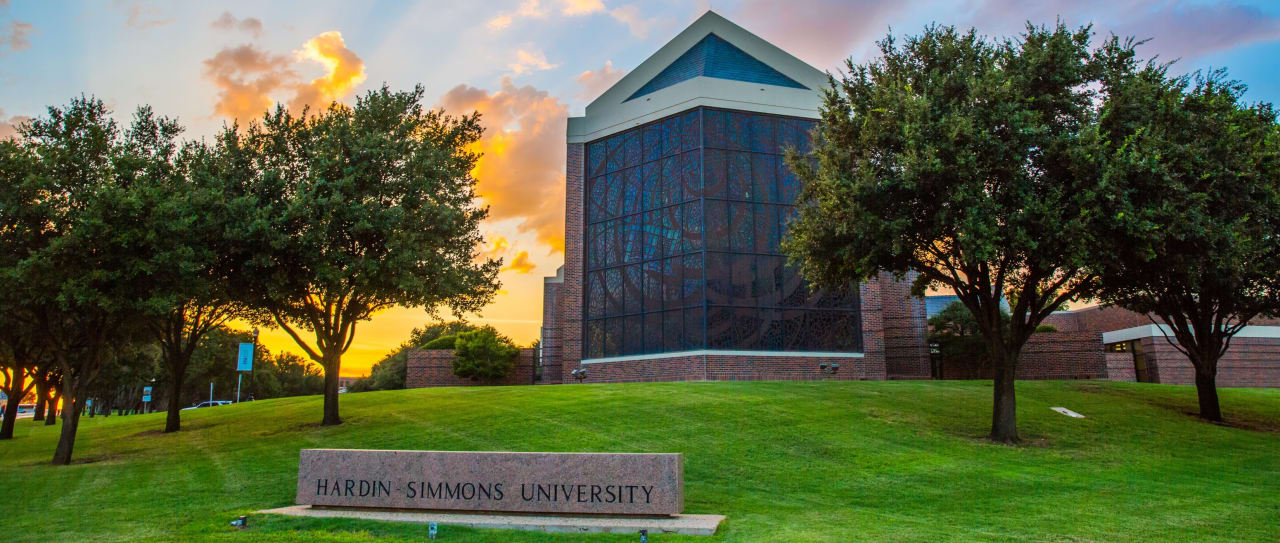 Bachelor in
Bachelor of Behavioral Studies in Elementary Education
Hardin-Simmons University

Key Information
---
Tuition fees
USD 29,526 / per year *
Application deadline
Request info
Earliest start date
Request info
* full-time undergraduate tuition & fees; 12-17 hours per semester; does not include course-specific fees
Introduction
Our Interdisciplinary Generalist program is dedicated to preparing future EC-6 classroom teachers who understand how to provide positive and productive learning environments as well as engaging and developmentally appropriate instruction that is respectful for diverse learners in public, private, or charter school classrooms.
Because of our faculty members' past teaching, administrative, or regional consultant experiences, the mosaic of the Interdisciplinary Generalist program is highlighted with reality while learning how to apply researched-based theories. Through the various hands-on learning experiences with HSU faculty members, local certified educators, and administrators, our HSU Education majors develop a personal and professional philosophy of teaching that targets the whole child – socially, emotionally, cognitively, and physically.
The Hardin-Simmons University Interdisciplinary Generalist program is accredited by the Texas Education Agency (TEA), which reviews our Educator Preparation Program yearly with a review of test scores and other accountability requirements.
Accredited Program
The State Board for Educator Certification (SBEC) and Texas Education Agency (TEA) Office of Accountability has awarded Hardin-Simmons University Teacher Education Program a rating of "Accredited" under the Accountability System for Educator Preparation authorized by Texas Education Code 21.045 every year since the rating of teacher preparation entities has been awarded. Educator preparation programs are held accountable for the performance of their graduates on the state credentialing examinations required for certification. Programs must achieve a minimum pass rate on the tests by disaggregated subgroups (All, Male, Female, White, Hispanic, African American, Other) to receive a rating of "Accredited."
HSU EPP Technology
Hardin-Simmons University Educator Preparation Program (EPP) begins teacher certification coursework with a freshman-level educational technology course that introduces future teachers to the standards developed by the International Society for Technology in Education (ISTE). These standards require students to apply for the roles as a Learner, Leader, Citizen, Collaborator, Designer, Facilitator, and Analyst. Within the technology class, EPP faculty members utilize the SAMR (substitution, augmentation, modification, or redefinition of a task or product) and RAT (replacement, amplification, or transformation) models of instruction within the course applications while introducing real-world connections with the Google's G-Suite for Education (i.e., Docs, Classroom, Sheets, Forms, etc.). Throughout the remaining EPP pedagogical classes for all certification programs, faculty members require future teachers to apply, analyze, evaluate, and create technological integrations within instruction and assessments for course requirements. Ultimately, all HSU education majors are given an opportunity to gain Level 1 Google Certification prior to graduation.
Hardin-Simmons University EPP prepares teachers to use technology effectively to improve teaching and learning for the purpose of increasing student academic achievement in various junior and senior-level content and pedagogical classes. Future teachers focus on analyzing data from informal reading and writing assessments to determine differentiated instruction for diverse learners as well as analyzing sub-populations, frequency distribution, scaffolding TEKS in order to close the achievement gaps (i.e., Eduphoria, Lead4ward, IXL, MobyMax, iStation, Success Maker, Education Galaxy, Starfall, Pebble Go, and Formative Loop) during a senior-level capstone course.
Curriculum
BSHS Interdisciplinary Generalist Core Requirements
These courses are required to be fulfilled in the Core Curriculum.
College Algebra
American Government
Technology in Education
Major Requirements
Interdisciplinary Generalist Major Requirements
Interdisciplinary Generalist
The required GPA for a major is 2.8.
Public School Art, Elementary
Essent Elements of Music
Physical Activities for Children
Mathematics Education
Theory and Foundations of Early, Childhood Education
Teaching EC-6 Math, Childhood Education
Teaching EC-6 Science, Childhood Education
Methods of Teaching Social Studies EC-6, Childhood Education
Beginning Literacy Development
Developing Comprehensive and Inquiry, Skills
Child and Adolescent Literature
Organ & Materials for Reading
Reading Practicum
Intro to the Adv/Gifted Learn
The Reading Professional
Foundations of Learning and Development
The Learning Environment
Foundations of Social Studies Instructi
Student Teach in the Elem Sch
Current Issues in Spec Ed
St Teaching in Early Child Ed
Capstone: the Professional Teacher
Program Outcome
Certified graduates of the Interdisciplinary Generalist Bachelor of Science in Human Sciences (BSHS) program are eligible to apply for positions ranging from early childhood classrooms through the 6th grade within the state of Texas.