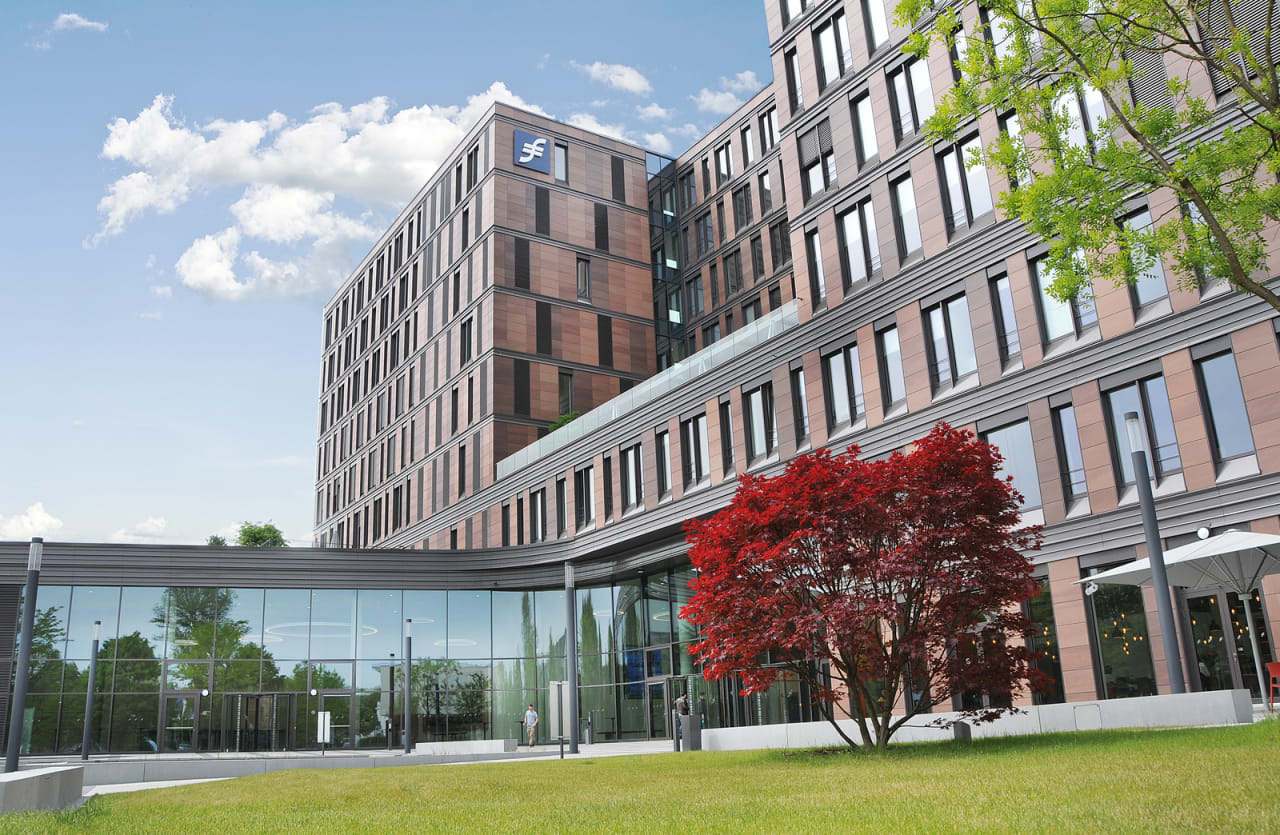 Bachelor of Science - Business Administration - Auditing and Consulting (KPMG)
Frankfurt School of Finance & Management
Key Information
---
Tuition fees
EUR 7,700 / per semester *
Application deadline
Request info
Earliest start date
Request info
* per semester
Introduction
Today's world is more demanding than ever. You will need strong analytical and methodological skills to make the right decisions in data-rich environments. But you will also need to evaluate normative implications and traverse different disciplines to find the best solutions to intricate and multi-faceted problems.
The Bachelor in Management, Philosophy & Economics (BSc) equips you with the exact set of skills you need to succeed in this world: By uniquely combining the scientific rigour of economics and the analytical acuity of philosophy with comprehensive training in business studies, it gives our students an incomparable international education and distinct advantage in the global marketplace.
Management
How do you make a good decision? Experience certainly helps, but you also need the ability to take apart a problem from different perspectives, shifting quickly from finance to technology to marketing to sales and back again. Vast amounts of information need to be processed and different interests integrated, but you also need to explain solutions to different audiences and convince them of your conclusions. MPE graduates excel not only in detail mastery of the methods used in today's business but also in seeing the big picture.
Philosophy
Doing philosophy is all about improving your analytical and critical thinking. By training you to strip away irrelevant details of a problem and assess the merits of competing solutions, philosophy enables you to cut right to the chase and forces you to give concise and convincing arguments for your position. But philosophy also investigates the most pressing political and moral challenges of our time. Our unique combination of formal and normative philosophical expertise thus gives our MPE graduates the edge in their future careers not only by teaching them how to tackle normative problems and think more astutely but also by making them see unexpected connections and challenge complacency.
Economics
Economic methods form the core of the MPE formal curriculum, drawing on cutting-edge research by faculty at the Frankfurt School in behavioural economics, game and decision theory, computational social science, and machine learning. The MPE programme is one of a kind in introducing students to the standard economic frameworks for solving judgment and decision problems, including empirically informed models of decision-making from behavioural economics, and modern machine learning methods in computational social sciences.
Summer School
Participating in our FS Summer School is a great way to improve your language & presentation skills and get an insight into the business world. Together with participants from all over the world, you will be working on exciting case studies & presentations and find out how life as an FS student looks like!
Curriculum
Curriculum
Semesters
| | | | | | |
| --- | --- | --- | --- | --- | --- |
| 1 | Principles of Management | Financial Accounting | Introduction to Programming | Mathematics | Ethics, Values & Objectivity |
| 2 | Principles of Finance | Microeconomics and Decision Making | Statistics & Probability | Logic, Arguments & Reasoning Well | Politics, Justice & the State |
| 3 | Operations Management | Managerial Accounting | Big Data: Ethical & Legal Implications | Empirical Economics | Markets, Games & Incentives |
| 4 | Marketing | Macroeconomics | Behavioural Economics | Models, Science & the World | Independent Research Paper |
| 5 | Semester & Internship Abroad | | | | |
| 6 | Current Topics in Political Philosophy Elective | Academic Skills Module | Concentration | Concentration | Concentration |
| 7 | Current Topics in Practical Philosophy Elective | Current Topics in Theoretical Philosophy Elective | Elective | Thesis | Thesis |
This is how we teach: Interaction, Feedback, and Personal Support
Modeled on Oxford and Cambridge Universities' teaching approach, we offer strong personal support and comprehensive feedback on our students' work and academic development. As such, philosophy modules feature so-called supervisions that deliver intense, individually tailored teaching sessions in extremely small groups. The objective of our business and economics modules, in turn, is not only to impart comprehensive theoretical and methodological knowledge but also to apply this knowledge in a goal-driven way to real-life cases. All modules employ innovative methods of hybrid learning to make the best use of face-to-face teaching, independent online learning, and personal supervision.
Semester and internship abroad
The MPE programme attaches great importance to internationality. This is why you will spend your fifth semester abroad. Supplement your degree by studying political science at Sciences Po in Paris or deepen your knowledge in philosophy and economics at George Mason University in Washington. Focus on Management at the University of New South Wales in Sydney or choose any other of our 100 partner universities for your studies abroad. Your internship, in turn, will help you gain further invaluable work experience in an international environment.
Our International Office and Career Services will advise you on your choice of a partner university, help you organize your semester abroad, and assist you in finding the right international employers.
Scholarships and Funding
Financing & Scholarships
Your degree is an investment towards your professional future. As a business school of international standing, we offer you not only academic excellence but also outstanding career prospects.
In order to guarantee high-quality teaching and research, we also expect the highest levels of commitment and motivation from our students. Your academic potential is, therefore, the only thing that counts. Your current financial situation should not affect your decision to join the Frankfurt School.
Still, we know that funding your studies can be complex and somewhat daunting. Our financial advisors are, therefore, on hand to provide you with personal guidance on finance options and scholarships.
Ideal Students
This programme is right for you if:
Your intellectual curiosity drives you to pursue a demanding degree programme that asks probing questions about what others may take for granted,
You are interested not only in business and economics but also in the most pressing political and moral challenges of our time,
You enjoy critical, analytical thinking, and formal methods.
The following entry requirements must be fulfilled before the start of your studies:
Successful completion of a Secondary School Diploma* (e.g. German Abitur, Fachhochschulreife, IB, EB or equivalent) - If you have yet to graduate, then you can apply by uploading your last two school reports.

Successfully complete our Online Assessment Centre, which consists of:
Maths test
Cognitive test
English test
Interview
Alternatively, you can provide us with one of the following test results in your online application: SAT, ACT or TestAS plus a standardised English test (TOEFL, IELTS, Cambridge or Pearson). In this case, you will also be required to take part in an online or telephone interview.
*If your secondary school leaving certificate does not meet the requirements for direct entry into German university set forth by the Ministry of Education, you have the opportunity to apply to our Pre-University Foundation Programme. Upon successful completion of the foundation course, you will be eligible to pursue your bachelor's degree at Frankfurt School. If you would like to know more about the Foundation Progamme, you are welcome to take part in one of our information sessions.
Career Opportunities
Career prospects
The MPE is a door-opener: It enables you to pursue careers in business and finance, in academia, philosophy, and politics-oriented fields. The MPE is also an ice-breaker: By combining your business studies with philosophy, it makes you stand out from the crowd and triggers curiosity from future employers. As such, our alumni are successful in many walks of life: Some are business founders, others start successful professional careers straight away, and others again continue their studies with a Master's degree – in management, politics, finance, philosophy, or economics – often at renowned international universities.
Career Services

Given the Frankfurt School's excellent reputation, our Bachelor's programme offers outstanding career prospects. From day one, our Career Services support you in your individual career management and enable you to expand your professional network through exclusive events. Through our career and application workshops, the FS Mentoring Programme, and our FS job fairs, we help you gain all the requisite skills to promote a seamless transition from your studies into the career of your choice.