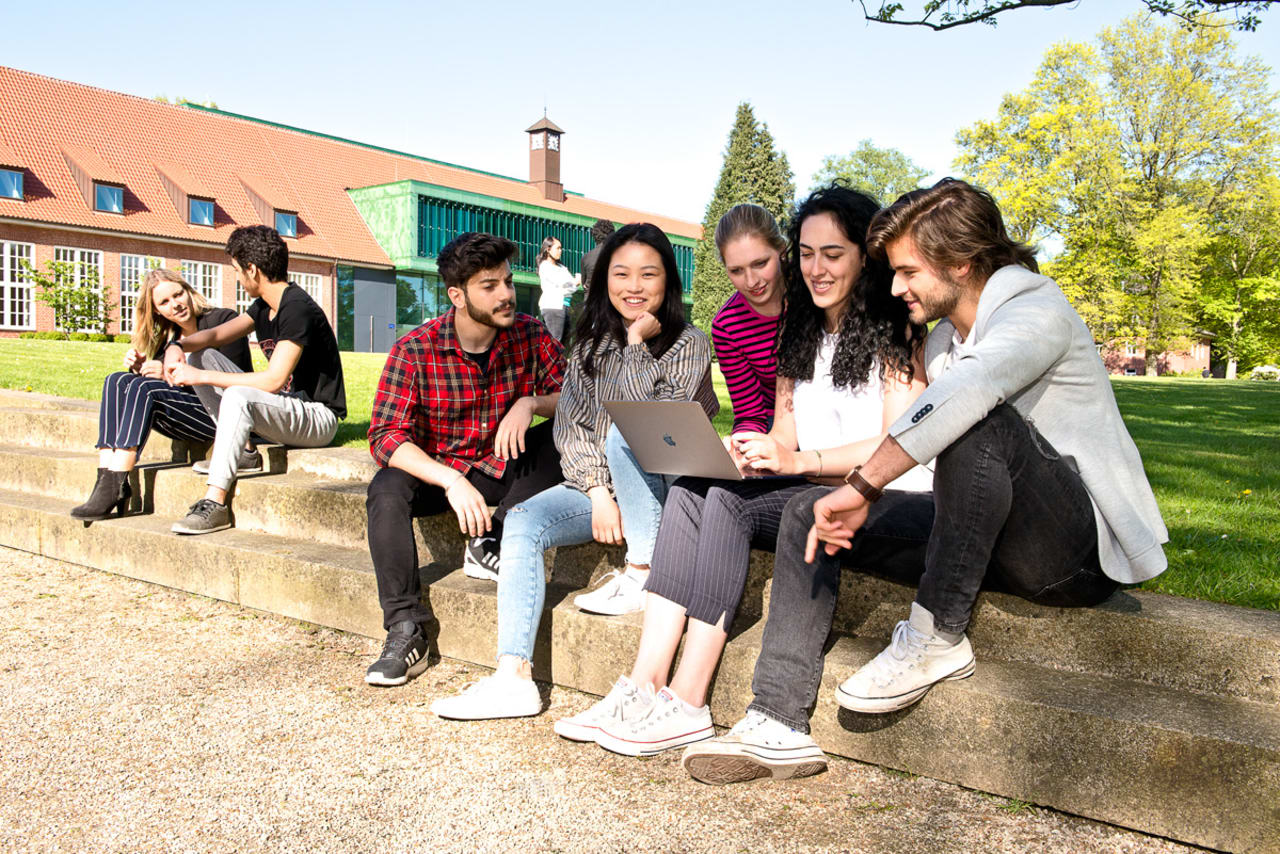 BSc in
BSc iin Earth Sciences and Sustainable Management of Environmental Resources
Constructor University Undergraduate Programs

Key Information
---
Campus location
Bremen, Germany
Tuition fees
EUR 20,000 / per year *
Application deadline
Request info
Earliest start date
01 Sep 2023
* additional fees apply
Introduction
The most pressing problems of the 21st century include environmental degradation such as climate change, loss of biodiversity, soil degradation, and air pollution, and increasing resource scarcity urging for a more sustainable use of Earth's resources. The BSc program Earth Sciences and Sustainable Management of Environmental Resources (ESSMER) is an interdisciplinary science major with a strong focus on phenomena and processes occurring at the Earth's surface. Our students develop a holistic understanding of the system Earth, anthropogenic interaction with its land, atmosphere, oceans and biosphere, and management of environmental resources, including water, soils, biological and energy resources, and minerals. The ESSMER program is based on a solid foundation in science disciplines and uses key methodological tools and concepts from Earth Sciences and data management combined with the concepts of sustainability and resource management.
Why Study at Constructor University
International Experience
Train your intercultural skills by studying with talents from more than 110 countries. A core emphasis of the programs is placed upon supporting the participants' personal development in terms of soft skills and language skills to account for the diversity in the student body to best prepare them for the national as well as the international job markets. Study in two locations in Germany or Switzerland and get the best education for your professional start.
Top Rankings
Constructor University is a top-ranked private, English-speaking university, offering accredited master's degree programs with a strong digital focus.
Benefit from the highest standards in research and teaching, a highly interdisciplinary teaching and research approach, as well as early involvement in research projects.
Global Career
Get on the gateway and design your individual career plan within an extended job network among research, education, and industry partners. As part of the Constructor ecosystem, you benefit from capacities in research, funding, and incubation to define their individual career perspectives, supported by personalized career planning and services and access to a large Alumni network.
Rankings
Top 25 % Constructor University ranks among the top 25 % of universities worldwide
#1 private university in Germany
#3 young university in teaching in Germany
#13 small university worldwide
Career Opportunities
Career prospects are excellent, as there is an increasing demand for graduates with a science-based background in both Earth and Environmental Sciences and management skills to solve the most pressing issues of our future societies. The study program offers an integrated approach to understanding complex Earth surface processes as well as current environmental and resource management issues of high importance with the aim of providing a top-level education for future employees of companies, public administrations in the field of the environment, environmental NGOs, international organizations, universities, and research organizations. Possible careers include high-school and college teaching, environmental consulting, protection and management, and work in science journalism and publishing or in the eco-tourism industry. Since positions in industry and academia often require an M.Sc. degree, the modules and courses in the ESSMER program also aim to prepare students for further studies at graduate schools.
The Earth and Environmental Sciences program has an excellent placement record for its graduates in both, the international job market and highly ranked graduate programs in Germany and abroad (such as Berlin, Bremen, Munich and Tübingen in Germany, and, for example, MIT Boston, ETH Zurich, TU Delft and numerous other universities in the U.S., the Netherlands, the U.K., South Africa, Norway and Sweden). Earth and Environmental Sciences alumni are currently employed by a variety of different companies such as Equinor, Wintershall, DuPont USA, Shell, Lürssen Werft GmbH, and McKinsey, universities and research institutions such as the University of St. Andrews, UK, University of Colorado Boulder, USA, AWI Bremerhaven, MPI for Marine Microbiology, GFZ Potsdam, and Marum Bremen but also at NGOs and Federal and State departments and agencies.
Individual career services and support: In addition to the career support provided by a student's Academic Advisor, the central Career Services Center (CSC) at Constructor University together with the Constructor Alumni Office support students with high-quality training and coaching in C.V. preparation, cover letter formulation, preparation for job interviews, business etiquette, and employer research. Furthermore, the Alumni Office helps students establish a long-lasting and worldwide network that provides support when exploring job options in academia, industry, and elsewhere.
Career services center
Today's business world requires disciplinary knowledge from graduates as well as the ability to apply this knowledge. Career-related services at Constructor University provide information, counseling and training, networks, and events. Constructor University's students participate in training on project management, business communication, job interview skills, and more. Digital job and internship portfolios help students to prepare for their careers.
Alumni association
Studying at Constructor University gives you connections – often for your whole life.
The Alumni Association E.V. was founded in 2004 by the first generation of graduates. Since then, around 4,500 students have obtained their degrees from this University.
Curriculum
The undergraduate program at Constructor University is a three-year, 180-credit-point program designed to prepare students for a wide range of career paths.
Throughout this 3-year full-time program taught in English, students will learn how to analyze and interpret large data sets, design, and develop software applications, and solve complex problems using data-driven approaches. Students will also gain a strong foundation in computer science, programming, and related disciplines such as mathematics and statistics.
The "4C Model" is the program's backbone, with disciplinary content grouped into three themes according to study years: CHOICE-CORE-CAREER. Additionally, the "CONSTRUCTOR Track", an integral part of the program, runs parallel throughout the program. It provides students with multidisciplinary content and essential skills such as argumentation, data visualization, societal engagement, and communication.
The curriculum allows students to tailor their education to their goals and to explore different fields of study, with the flexibility to change their major within the first year. Moreover, the programs include a mandatory internship and a study-abroad opportunity in the fifth semester to provide students with hands-on experience and a global perspective.
Scholarships and Funding
Education is a substantial investment in your future, at Constructor University we strive to make it an affordable reality for students from across the world. Therefore, we offer students personalized financing offers to help cover their tuition fees. They consist of one or more types of financial support in the form of scholarships and/or grants and tuition deferrals. You only start repaying the deferred tuition fees once you successfully entered the job market. That way you can focus completely on your studies. We are convinced that a Constructor University education will form the perfect foundation for your future career – that is why we are happy to invest in you.
Scholarships
All students are considered for an academic achievement scholarship based on their school grade point average (GPA). EU and EFTA students are eligible for a minimum guaranteed scholarship of € 4.000.
Academic Achievement Scholarships (per academic year)
€ 4.000 (Minimum guaranteed amount for EU and EFTA students)
€ 6.000
€ 8.000 (Maximum scholarship amount irrespective of nationality)
The number of these scholarships is not limited and no separate application is required.
Students are informed about their scholarship amount immediately following admission.
Tuition Deferral Program
In cooperation with our partner Brain Capital
Deferral of tuition fees is calculated automatically and available to you shortly after admission.
You decide whether you want to take advantage of this personalized financing option.
Granted independently of your financial situation.
Flexible repayment plan based on your future income and personal circumstances.
Apply for need-based aid
In addition to our academic achievement scholarships and our tuition deferral program, students can apply for our personalized, need-based financial aid program.
The amount of the grant (need-based discount) is determined based on your and your family's financial situation
The amount of the grant does not need to be repaid.
Our Student Financial Services team is happy to assist you!
External financing options
These scholarships are not administered by Constructor University Bremen. For further information about the requirements and the application process, please contact the appropriate institution directly.
External Scholarships and Stipends
We have compiled a list of German foundations that offer scholarships and stipends to national and international students: listing of External Scholarships and Stipends
DAAD Scholarship Database
MyStipendium.de: Search engine to help you find the stipend which matches your profile
Elternkompass: Beratung und Hilfe bei der Suche nach einem geeigneten Stipendium (German students only!)
MLP Stipendienprogramm – für MINT-Studenten ab dem 3. Fachsemester
Student Loans
BAföG: Grants and student loans given to German students based on their family's financial situation.
KfW-Studienkredit: The student loan of the Kreditanstalt für Wiederaufbau (KfW) is the most popular student loan among our German students.
studienkredit.de: Here you will find more information regarding educational loans in Germany.