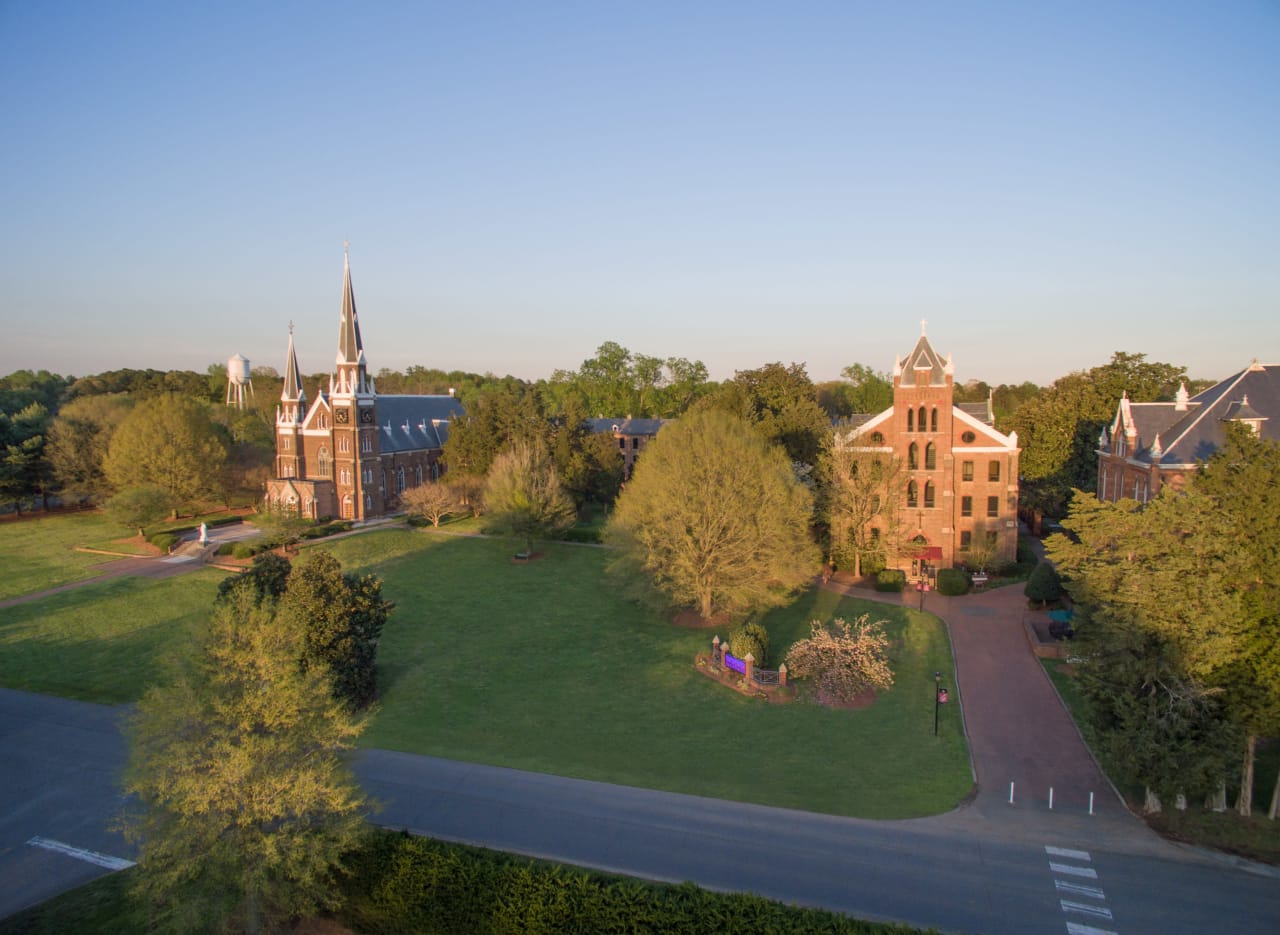 BA in
Bachelor of Arts in Sport Management
Belmont Abbey College

Key Information
---
Campus location
Belmont, USA
Tuition fees
USD 18,500 / per year *
Application deadline
15 Jun 2023
Earliest start date
Aug 2023
* full time traditional students tuition (12-18 credits hours per semester)
Introduction
Our Focus
the technical, interpersonal, and conceptual skills required to function as an effective sport manager in today's complex sport environment
the governance structure of various sport organizations
the legal and regulatory environment of contemporary sport
Your Talents
You will enjoy Abbey's sport management Major if you:
like athletics and sports
enjoy working with people
have well-developed communication skills
want to motivate and lead people
have an interest in finance, marketing, and operations
Our Approach
Our program will enable you to:
recognize the importance of planning, management, and leadership in contemporary sports organizations and apply that knowledge from a managerial perspective
appreciate the impact of sport on people and societies
evaluate the ethical demands of today's sport environment
develop appropriate ethical practices, applying them in sport management settings
Your Purpose
With a sports management bachelor's degree from Belmont Abbey College, you will be able to pursue a variety of career opportunities, including:
Coaching
Physical therapy
Sports and team management
Sales and marketing
Community relations
The Sport Management Department inculcates a variety of skills and knowledge in its students in the areas of the business, management, and legal characteristics of sport.
The Abbey Difference
Guided by the tenets of Catholicism and the Benedictine hallmarks, Belmont Abbey College strives to provide its students with a well-rounded education that promotes wise and ethical decisions.
The sport management faculty is committed to modeling and encouraging the further development of honesty, integrity, and virtue in our students. Focused on developing the whole student in mind, body, and spirit, Belmont Abbey College is the ideal place to prepare for your career in sports management. We aim to form students who can integrate skills and knowledge of the sports industry with the values of our liberal arts curriculum. As a result, we produce both talented and principled professionals in the field of sport management.
Highlights of your experience
Organizational Theory and Leadership in Sports: This class teaches students important theories of leadership and management in sports organizations. Additionally, students will explore personal strengths to develop leadership capacities.
Sport Marketing: Instructs students in the unique properties of sport in relationship to marketing theory. This course examines the primary functions and principles of sports marketing, including consumer behavior, market segmentation, licensing, sponsorship, and more. Public relations and the legal considerations of sports marketing will also be addressed.
Sport Facilities and Event Management: This class teaches the relationship of facility design and capabilities to event possibilities with a particular emphasis on managing those facilities. Our students will have opportunities to design and develop sports facilities and events.
Program Requirements
Lower-level courses to be completed prior to enrolling in any 300 level or higher Sport Management course:
SM 200: History, Culture, & Philosophy of Sport
SM 201: Introduction to Sport Management
Six (6) of the following:
SM 305: Sport and Society
SM 310: Organizational Theory & Leadership in Sport
SM 320: Administration, Governance, and Policy
SM 325: Coaching Management
SM 330: Sport Marketing
SM 335: Social Media Management in Sport
SM 340: Sport Facility and Event Management
SM 350: Sport Law and Risk Management
SM 360: Sport Business and Finance
SM 370: Sport Broadcasting
SM 380: Sport and Exercise Psychology
SM 399: Special Topics in Sport Management
SM Senior Capstone courses:
SM 400: Senior Seminar
SM 450: Internship
Required Business Courses:
EC 201: Introductory Economics I
BU 265: Spreadsheet and Database Applications
BU 315W: Business Communication
English Language Requirements
Certify your English proficiency with the Duolingo English Test! The DET is a convenient, fast, and affordable online English test accepted by over 4,000 universities (like this one) around the world.