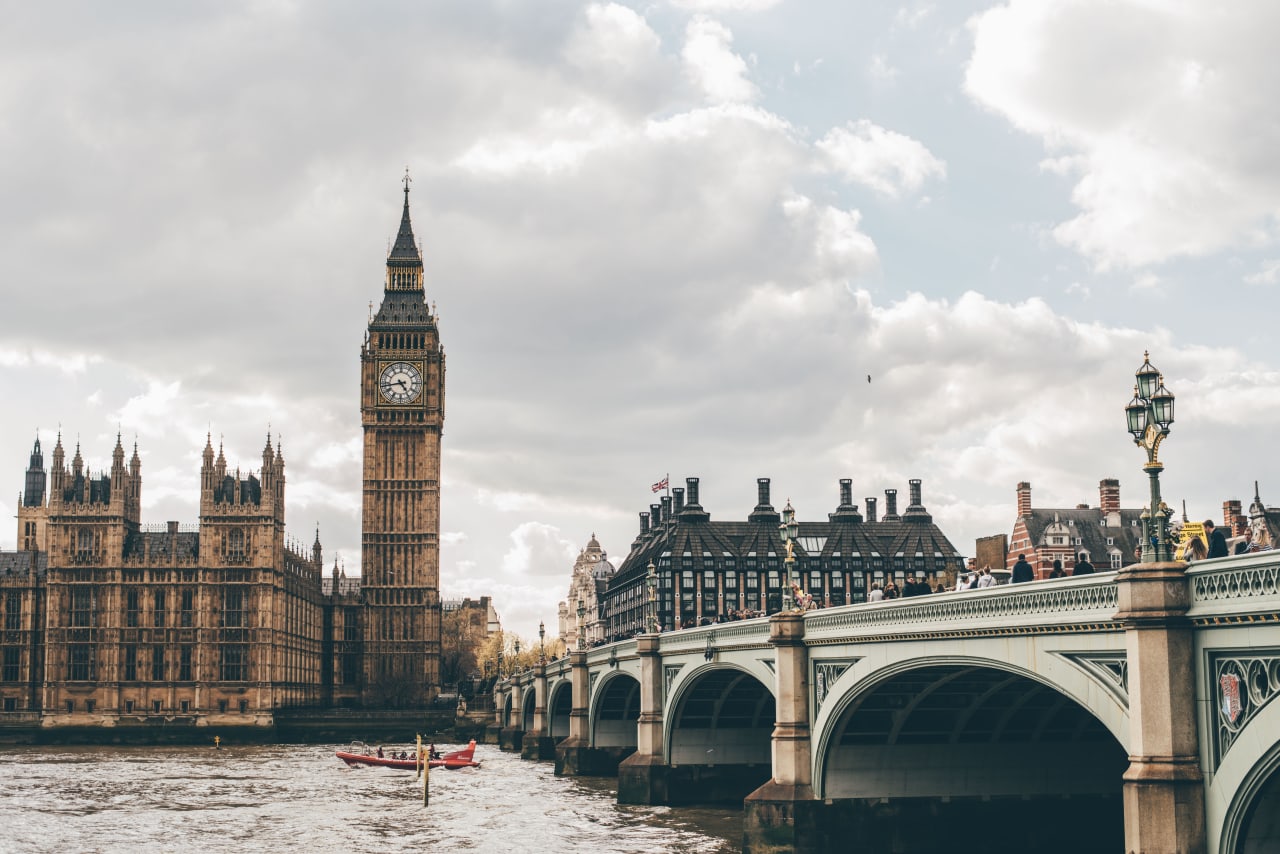 BA in
Live Events Production BA (Hons) & FdA
Backstage Academy
Key Information
---
Campus location
Wakefield, United Kingdom
Tuition fees
GBP 9,000 / per year *
Application deadline
Request info
Earliest start date
Request info
* per year
Scholarships
Explore scholarship opportunities to help fund your studies
Introduction
The Live Events Production BA (Hons) degree course is an innovative course that introduces you to all the different areas of event production, across all sectors. This course is also available as a 2 year foundation degree.
This course focuses very much upon employability, ensuring that you leave with a broad portfolio of relevant experience, together with the right skills and attitude to work in a safe and responsible manner. You will gain a range of industry-based certificates during the first module, which will equip you with the basic knowledge and skills to make you more employable on events throughout the course, to build on your work experience portfolio. By the end of the first two-years, you will be capable of engaging in a range of creative processes, from design for live music, to brand awareness, dealing with artists or simply managing your client's expectations, and you will have a good understanding of the various processes and technologies that are used in the industry.
The final year is focused on management and will provide more insight into the key issues involved in the strategic management of large events, festivals and venues. Personal and professional development is emphasised and encouraged during the programme along with employability skills and a commitment to continuing professional development. The modules reinforce the programme's vocational nature and are designed to teach students to design, develop and deploy management strategies over key areas within the live events sector for a successful event management career.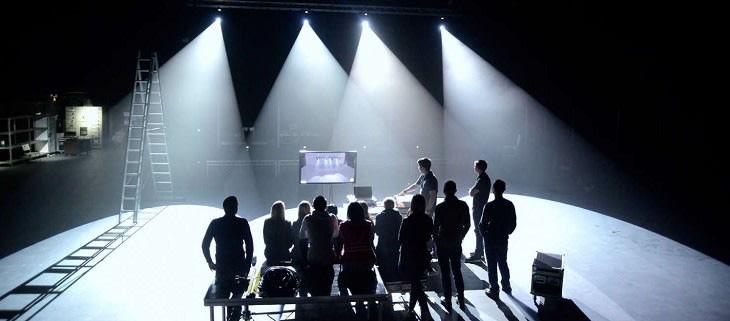 Why Study This Course?
Professional training on the creative use of entertainment technology will prepare you for a wide variety of roles within the Live Events Industry. A series of 12 modules over the first 2 years will give you strong grounding in a range of technical, creative and production management disciplines. You will learn from industry professionals, have access to training on a wide variety of industry standard equipment and become accredited with a number of industry recognised certifications to increase employability. Work-placement and career development modules are designed to equip you with the skills, knowledge and experience to progress into employment or set you up as a freelancer. You will complete a number of group projects based on typical professional briefs where you will develop teamwork skills. Written reports and research tasks will deepen your knowledge and lay the foundation for progression to further study. During the third year you will cover a range of modules investigating the management of live events and production planning.
Students who choose the two-year FdA Live Events Production will be eligible to progress onto the one-year Live Events Production (Top-up) BA (Hons). They are also eligible for entry to the Live Visual Design and Production BA (Hons) course at the second year entry point.
Careers
Career opportunities exist in a range of backstage industries – from live music, theatre and exhibitions to conferences, festivals and cruise ships – anywhere a live event takes place! This course can set you on your way to a variety of careers or further training. For example you could become a Lighting technician, Lighting Designer, Sound System Engineer, Live Sound Engineer, Production manager, Live Visuals engineer or operator, Video Wall Technician, Moving Light technician, Pyrotchnician, Event Manager, Tour Manager, Site Manager, Safety Officer, Artist Liaison, Stage manager etc. Graduates of the course are currently working for: P&O Ferries, Fix8, YSLV, Ibiza Rocks, XL Video, CAST(Doncaster), Wakefield Theatre Royal, LS-Live, PerryScenic, Brilliant Automation, Litestructures. On completion of the FdA you are eligible to apply for the Live Events Production (Top-up) BA (Hons) one-year course. You are also eligible for entry to the Live Visual Design and Production BA (Hons) course at the second year entry point.
Modules
Year 1:
Academic and Professional Skills for the Events Industries
Concept Design and Presentation
Staging
Live Sound
Lighting
Live Visuals
Year 2:
Work Placement
Research Methods for Events Studies
Entertainment Networks and Show Control
Event Production Management
Production Planning and Realisation
Career Development and Employability
Year 3: BA (Hons) only
The Integrated Music and Live Events Production Business
Production Planning and Management
Events Logistics
Work Related Project
Major Project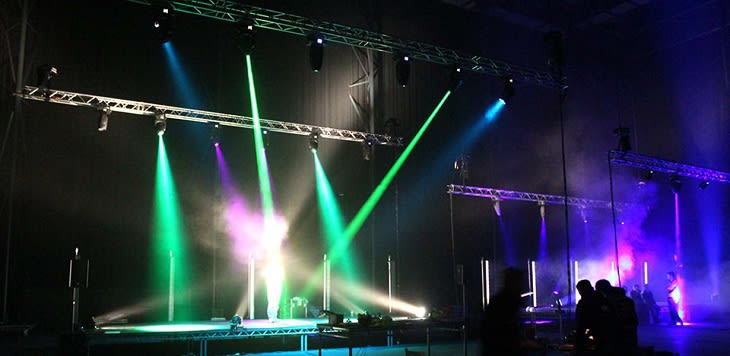 Assessment
Assessment is by portfolio, group practical, presentation and (where appropriate) a supporting piece of work relevant to the module. All assessments are based around you evidencing your skills and experience, reflecting upon how you are developing both professionally and personally and are a useful tool for you to set goals and targets.
You will also be expected to research methods and practices that are not covered in the module, and to relate and compare these to your learning.
Other work relevant to the module might include a stage design and layout, a festival event plan or perhaps a lighting design and visualisation.
Admissions Criteria
For 2017 entry
You would normally have five GCSE's at Grade C and above, including English Language and Maths. In addition you need:
BA – 104 UCAS points based around 3 A / AS levels or Vocational A levels or BTEC Level 3.
FdA – 64 UCAS points based around 2A / AS levels, Vocational A levels or BTEC Level 3.
If you do not meet the required UCAS points but have considerable work experience relevant to live events you may still be eligible.
If English is not your first language you will need IELTS 6.0 or equivalent.
*Please note – all applications are to be made via UCAS
How To Apply
Applicants are advised to carefully read all the important information about applying for a place at Backstage Academy before applying for a place and accepting any offer. This may be found on our partner University's website by clicking here – www.bolton.ac.uk/Admissions
Applications are normally made via UCAS. When completing your UCAS application, please give special consideration to your personal statement, as this is the primary basis upon which we select applicants. Special consideration will be given to those without the necessary academic qualifications, but who are able to demonstrate relevant practical experience. We may additionally invite you to attend for an interview. Our interview process is relaxed and informal; it's your chance to tell us all about your experiences, ask any questions and for us to make sure the course is right for you. We try to make sure that current students are on hand to discuss their experience of the course with you.
Applications for this year
Please apply through UCAS (the Universities and Colleges Admissions Service) for September entry.
The online application form and guidance notes are available on the UCAS website.
You can apply for up to five courses through UCAS (at the same or different institutions) for a fee of £23. Alternatively, if you only wish to apply for a single course at a single institution then a reduced applicant's fee of £12 is applicable.
You will need the following information to complete your UCAS application form:
Institution Code Name: BOLTN
Institution Code Number: B44
Course Code: BA – N821; FdA – N820
Applications for next year onwards
Please register your interest and we can send you information about open days, updates on the course and information about how and when to apply.
Miscellaneous
Award: BA (Hons) / FdA
UCAS Code: BA - N821, FdA - N820
Mode of Attendance: Full time
Duration: BA (Hons) - 3 yrs, FdA - 2 yrs
Start Date: 25th September 2017
Location: Production Park & Unity Works