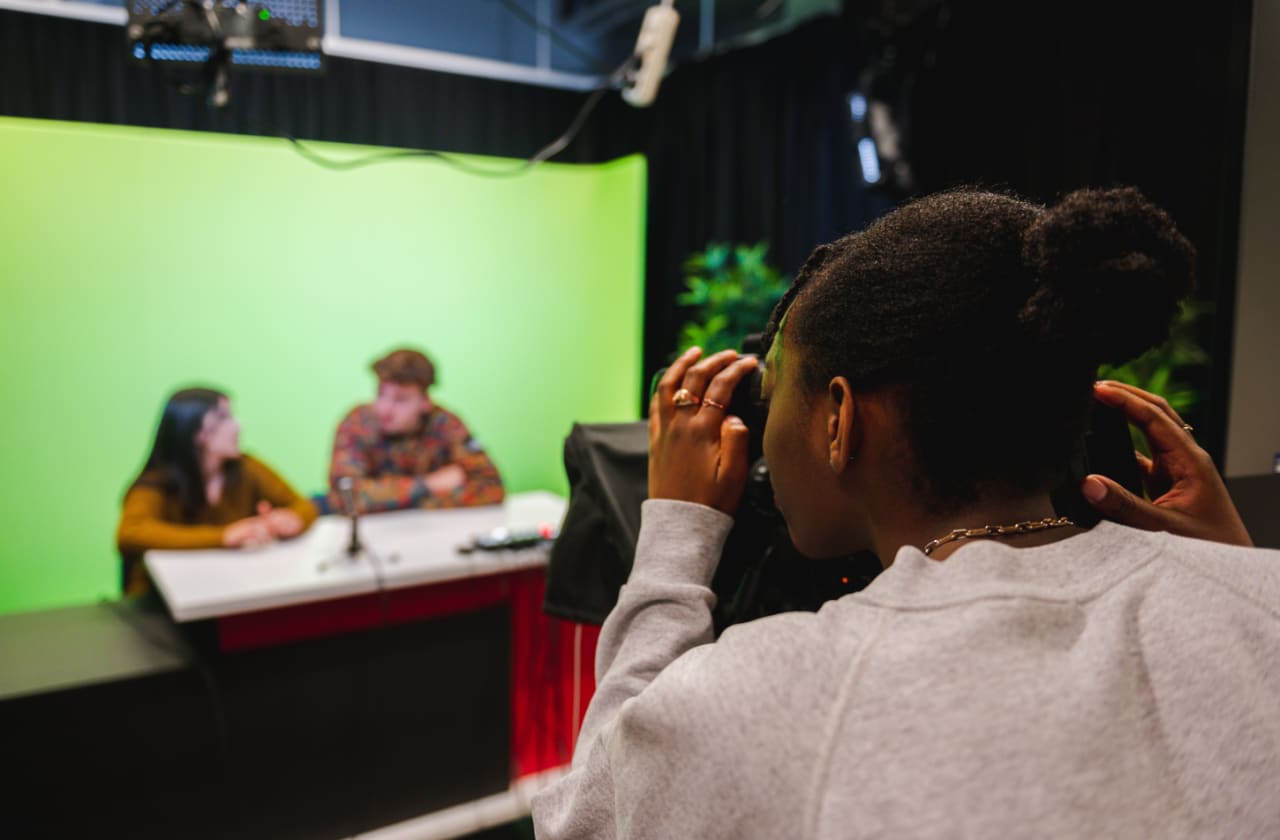 Bachelor in
Bachelor in International Journalism
Artevelde University of Applied Sciences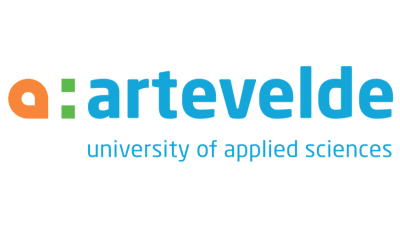 Key Information
---
Campus location
Gent, Belgium
Tuition fees
EUR 1,150 / per year *
Application deadline
01 Sep 2024
Earliest start date
Sep 2024
* for EEA students and non-EEA students with a valid Belgian residence permit | €7750/year for non-EEA students who will stay in Belgium with a visa
Introduction
Dive into the international media sector. You will produce cross-media reports, news items, and other journalistic stories for a global audience. In the meantime, you learn all the professional and technical skills you need to become an international journalist. At the end of your studies, (foreign) news and its background will no longer hold any secrets for you. In some of the courses, you will work with students in International Communication Management and International Graphic and Digital Media in interdisciplinary teams, just like in the industry.
What will you learn?
In International Journalism, you do cross-media assignments with global impact. First, you get started with audio, photo, and video - online and in print. Then, you become a guiding journalist who can work for several (international) media brands.
Proficiency in English and good writing skills are a given. Naturally, you can approach your subject matter with a critical eye. You get in-depth knowledge of the global media landscape and establish interesting contacts.
It is all about your curiosity, talents, and skills. We'll coach you into a critical doer, a journalistic jack-of-all-trades with international panache.
Theory and practice
We will teach you the theory by immediately converting it into practice. So you learn by doing. In this way, you apply the knowledge and skills that you learn in semester courses in the full-year course Media Factory. Then, together with your fellow students, you get started with simulated cases that often occur in practice.
Study program and professional sector
Of course, you want to find out how things work in most journalistic jobs during your studies. So you get assignments for real external initiators and interesting classes by guest speakers. You will be coached and assessed by communication experts. You also develop technical skills that are always useful, like knowledge of Photoshop, Indesign, and video. We adjust our curriculum regularly in collaboration with the professional field to keep the learning content up to date. Through your internship and final project, you set your path and get more in touch with professional practice.
Learn to work independently
During your track, you are followed intensely, by lecturers and external experts, both in face-to-face contact and via Canvas, our digital learning environment. You will acquire a more self-directed approach as you progress in your study program.
Career Opportunities
Getting Started!
Get started in Belgium and abroad as:
journalist
editor
spokesperson
production assistant
host
researcher
copywriter
communication specialist
pr officer
Various Sectors
In the media: online, newspaper, magazine, radio, or television
At an advertising or communication agency
At a government agency
At the communication service of an organization or company
Freelancer
As a freelancer, you choose which assignments correspond to your ambitions and interests. Are you looking for support? Start-up School supports students toward full-time entrepreneurship. For six months, get started as an entrepreneur while taking classes to broaden your skill set.
Interesting Data*
Journalism graduates in Belgium take a little over three months to find their first job.
About 88 % of Journalism graduates have found a job one year after graduation.
* Source: VDAB, public employment service of Flanders
Curriculum
On average, you have 23 hours of classes per week. You also do assignments and exercises, prepare for classes, and study. Therefore, expect to invest 45 hours per week in your studies. You take general and introductory courses in groups or online. For project courses, you work with fellow students in smaller working groups and have more individual contact with the lecturers.
First Year
In the first year, you immediately get started with actual journalism assignments. You learn to research, write journalistic texts for an international audience, find news, and do interviews. You get acquainted with and take your first steps in all kinds of journalistic storytelling. In Current Affairs, you discuss and unravel current international events. In the meantime, you learn basic camera skills (photography, audio, and video) and get familiarised with the Adobe software packages to create satisfactory news reports. You also immediately get acquainted with the international media landscape and get the opportunity to put in place the first building blocks of your global network. In Media Factory, you will learn the professional skills to collaborate successfully in a team.
You take the courses in italic in an interdisciplinary class group, together with students in International Graphic and Digital Media and International Communication Management.
Semester 1
Semester 2
Semester 1+2

Digital Content Production 1
Design Research
Media Strategies and Marketing
Cross Media Projects 1
Current Affairs 1

Digital Content Production 2
International Media Community
Research Skills and Data Analytics
Cross Media Projects 2
Current Affairs 2
Second Year (subject to changes)
You will deepen your basic skills in the second year and work for external commissioning parties. Then, you dive into European politics and take your first steps as a host for TV, radio, and podcasts … You search data for the best journalistic stories, which you illustrate with the most insightful data visualisation. In the meantime, you learn to sell your journalistic story online with the necessary stopping power. Finally, your entrepreneurship gets tested in the interdisciplinary subject of Sustainable Business Models.
You take the courses in italic in an interdisciplinary class group, together with students in International Graphic and Digital Media and International Communication Management.
Semester 1
Semester 2
Semester 1+2

Content Marketing
Persuasive Communication
Cross Media Projects 3
European Politics 1
Media Presentation Training 1

Data Visualisation
Sustainable Business Models
Cross Media Projects 4
European Politics 2
Media Presentation Training 2
Third Year (subject to changes)
In the third year, you choose your speciality.
You specialise in a theme and create your own media production. You also go abroad for one week to make foreign reports. In your internship and final project, you take your first steps in the international labour market.
You take the courses in italic in an interdisciplinary class group, together with students in International Graphic and Digital Media and International Communication Management.
Semester 1
Semester 2

Intercultural Management
Innovation Management
Across Borders
Expert tracks*


Trending topics


Culture & Lifestyle
Politics & Society
Business
Sports

Media Productions


Live Show
Newsroom
Media Magazine

Electives**


AI-Powered Content Creation
Immersive Storytelling (VR/AR)
Podcasting
Applied Neuromarketing
Creative Writing
Digital Business Technology
Data Visualisation
Photography: Visual Narratives
English with a bang!
Français: contextes professionnels et interculturels
Advanced Pitching & Presentation

Chose from:***

Internship + Design LAB
Internship abroad XL
* You choose one Expert Track and follow all subjects within that track.
** You choose two electives.
*** You choose between an Internship and Graduation project or a more extended internship with an integrated project.
Program Outcome
Nine professional roles
The curriculum is constructed according to nine professional roles that you will learn to master in the various courses:
Critical and inquisitive global citizen: You are a 21st-century citizen with a critical and open mindset in an intercultural and international context. You link the historical and social context to the news of the day. You know who you are, reflect, and find your place in the media world.
Researcher: You learn to use suitable sources, check the facts, work your magic with Google, and look at the world employing data.
Creative entrepreneur: You avoid the beaten track, take the lead in interdisciplinary teams, and demonstrate your entrepreneurial mindset and skills.
Interviewer: Challenging and critical or gentle and empathetic: every interview style gives different results - learn to ask questions that dig deeper.
News reporter: You develop a nose for news, search for new angles, and find the new truth that must be told—tuned to the target group and medium.
Digital creative: Your stories have stopping power on social media, in charts, interactive videos, and apps, condensed into 280 signs or rich long reads. You possess the technical skills to create quality journalistic stories and edit and publish them in a cross-media context.
Visual storyteller: Avoid a thousand words by creating the right image, tell your story in video and photos, and learn to write with your eyes.
Writer: The basis of good journalism: you write and edit the sharpest texts in fluent English for the web, social media, video, audio, newspaper, or magazine.
Presenter: You pitch your ideas confidently and present everything with a flair for the camera and microphone.