Bachelor in
Bachelor in Sociology
Aquinas College

Scholarships
Explore scholarship opportunities to help fund your studies
Introduction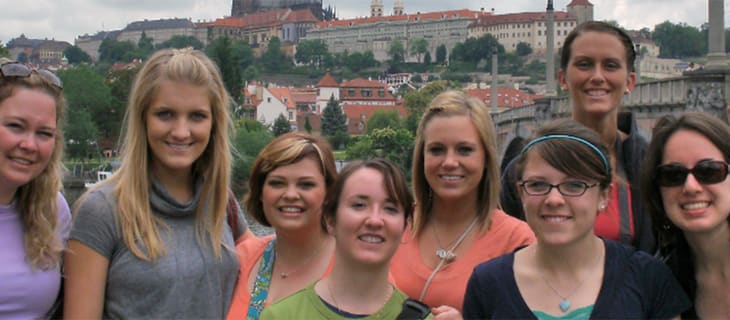 Why Study Sociology?
The Sociology Department has a community-based learning curriculum that brings sociological ideas alive to students by expanding the boundaries of the classroom and exposing students to experiences and opportunities in the community as part of their course work.
How We're Different
Monsignor Bukowski, the first Aquinas sociologist, taught labor relations, was active in civil rights, and led Appalachia service-learning trips.
Sociology graduates make a difference in non-profit, criminal justice, social work, business, law, and college teaching careers.
Professors have diverse specializations including gender, social work, organizations, community, inequalities, sustainable urban development, social psychology, subcultures, ethnography, and culture.
Sociology Professor Dr. Susan Haworth-Hoeppner received the 2014 Midwest Sociological Society's Jane Addams Outstanding Service Award.
Sociology students receive community-based learning with Grand Rapids agencies seeking solutions to social problems.
The course Indigenous Peoples of the Great Lakes is taught by Ron Yob, Chief of the Grand River Bands of Ottawa Indians.
We partner with Grand Rapids Public Schools on Girls Empowering Together (G.E.T.), an after-school leadership program.
Aquinas is one of only six Michigan private colleges with an Alpha Kappa Delta chapter, a sociology honor society.
Students plan career paths in Sociology Preparatory Course, and meet alumni who use sociology in their work.
Students learn critical thinking skills needed to understand, analyze, and act in a complex world - in sociology, dissent in the classroom is welcomed.
Major Requirements
Forty (40) credit hours. Required courses:
SY101
SY103
SY105
SY/PG202
SY291
SY312
SY375
SY403
Fifteen (15) hours of electives in Sociology.
Eighteen (18) hours to be taken at Aquinas College. To be a sociology major, a student must maintain a C or better grade in all major requirements.
Courses
SY101 Introduction to Sociology (3) PSC
SY103 Cultural Anthropology (3) PCG, GP
SY105 Sociology Preparatory Course (1)
PG/SY202 Introduction to Research and Design (4) QR
SY291 History of Sociological Thought (3)
SY312 Social Stratification (4)
SY375 Complex Organizations (3)
SY403 Capstone Seminar (4) SC
English Language Requirements
Certify your English proficiency with the Duolingo English Test! The DET is a convenient, fast, and affordable online English test accepted by over 4,000 universities (like this one) around the world.