Bachelor in
Bachelor in Management Information Systems
Aquinas College

Scholarships
Explore scholarship opportunities to help fund your studies
Introduction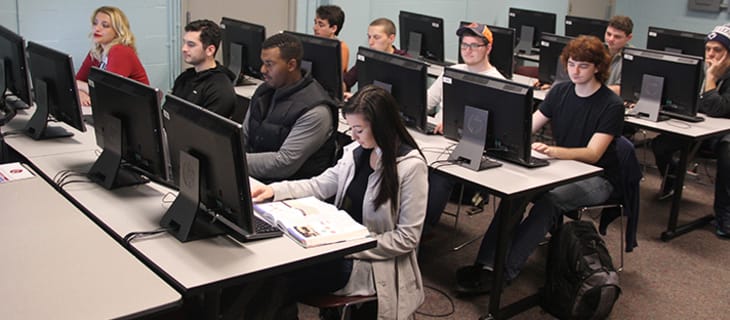 Why Study Computer Information Systems?
Aquinas offers both Computer Information Systems (C.I.S.) and Management Information Systems (M.I.S.) majors. Each major includes a strong technical base, including programming, operating system, database, and networking foundational knowledge.
The C.I.S. major strengthens each of these skill sets with advanced courses, while the M.I.S. degree combines business skills such as accounting and marketing with the technical skills needed for business application of information systems and technology.
Recent changes to the department have aligned the major requirements with ever-changing industry needs including web design and web services, open-source applications, and a practicum in application design and programming.
M.I.S. Major Requirements
Forty-four (44) semester credit hours. Required courses: CS153, CS154, CS156, CS158, CS170, CS180, CS242, CS252, CS300, CS302, CS304, CS308, CS332, BS201, BS202, AG210, and AG211.
Courses
CS153 Presentation Graphics (1) T
CS154 Database (1)
CS156 Accounting Technology (1)
CS158 Web Page Design (1)
CS170 Principles of Operating Systems (3)
CS180 Structure and Logic (4)
CS242 Database Theory (3)
CS252 Advanced Spreadsheets (1)
BS/CS300 Management Information Systems (3)
BS/CS302 Systems Analysis (3)
CS304 Systems Design (3)
CS308 Project Management (3)
CS332 Installing, Configuring, and Administering Windows Client (3)
BS201 Principles of Management (3) BE
BS202 Principles of Marketing (3)
AG210 Principles of Accounting I (4)
AG211 Principles of Accounting II (4)
English Language Requirements
Certify your English proficiency with the Duolingo English Test! The DET is a convenient, fast, and affordable online English test accepted by over 4,000 universities (like this one) around the world.