BA in
Bachelor Marketing and Sales Management (BA)
AKAD University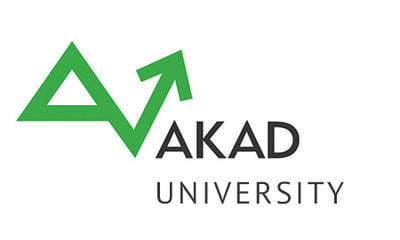 Key Information
---
Campus location
Germany Online, Germany
Study format
Distance Learning
Application deadline
Request info
Earliest start date
Request info
Introduction
More and more companies are expanding their sales. No wonder! Because in the markets, the digitization of production processes will make the production processes more homogenous and the focus will shift to marketing and sales. There are exciting fields of activity. For sales professionals who also have a broad marketing know-how, there are great opportunities.
Your study structure
Your degree program Marketing and Sales Management (BA) is structured into three sections, which will bring you to your degree:
First stage of study
The program starts with a consideration of operational functions and provides a well-founded basic knowledge. You will learn basic sales and marketing strategies and the basics of business administration that you can build on as you progress through your studies.
Second stage of study
The second section is the foundation for your profiling. He deals with the strategy of marketing and takes a look at information gathering with market research. Current marketing instruments and specifics of B2B marketing as well as sales are also in focus.
Third stage of study
In the last third, it goes into the wells. From six subject areas , you choose two fields of study with which you are intensively involved. This will make you a true expert in your field.
In order to optimally prepare for your professional life and your degree, you now create a project with a practical task.
Your perspective in distance learning marketing and sales management
You are already working in marketing or sales and now want to expand your skills? Then, after completing this degree program, you will be offered numerous job opportunities in national and international companies and organizations. You take the lead for sales projects with both B2C and B2B procurement as well as complex sales objects. You work in marketing and face strategic sales tasks.
Even as a consultant around the marketing orientations of companies and their sales activities, you are in great demand with your expertise - whether as an employee or on an independent basis. As a sales representative, you work closely with various sales service providers. With your degree you lay the foundation for your career and the entry into a leadership position eg as a sales manager, key account manager or in a higher position at the interface between sales and marketing or product development. The leap into self-employment is also possible with this degree program.
AKAD University - the pioneer in the digital, time and place-independent bachelor degree program
Organize your studies according to your individual professional and private situation. Get the most out of your learning type! With the digital AKAD study model you can acquire a bachelor's degree during your working life in a flexible, individual and efficient manner :
The AKAD Campus is the central hub for your Bachelor's degree. At any time and on the move, you can use your study documents online. Plan exams very flexibly and exchange information with your fellow students and professors. Would you like to know how close you have come to your Bachelor's degree? A look at the AKAD Campus is enough! With the AKAD study model as a working student successful for a Bachelor's degree:
Distance learning: practice-oriented, up-to-date and clearly structured study materials. Time and place independent. For home and on the go!
E-learning: efficient learning through digital learning methods: online exercises, online coaching and web-based training. So that the contents sit safely!
Interactive e-learning: personally by tutors and in direct exchange with fellow students. Additional skills that you can use profitably in your job!
Seminars (optional): complementary to the virtual forms of learning. Immediately apply what you have learned in concrete professional issues!