Program Description
Bible and Religion at EMU
EMU Bible and religion students delve deep into Scripture, do their own spiritual formation work, and find their purpose in life as followers of Jesus; they become equipped to serve the common good close to home and around the world.
As a graduate, you will be prepared to attend seminary or graduate studies or begin immediately to serve in churches, service organizations, schools, hospitals, and community organizations. You will develop self-awareness and skills to make a difference through a commitment to Anabaptist Mennonite values of cross-cultural understanding, care for creation, non-violent peacebuilding and service to others as Jesus modeled.
Hands-On Learning and Exploration
Bible and religion students join in and often lead campus worship experiences and serve as a ministry or pastoral assistants in residence halls. All students, whether they are a department major or not, are invited to explore pastoral ministry and test their gifts first-hand through the Ministry Inquiry Program. A unique benefit to Bible and religion students also lies in being on the same campus as Eastern Mennonite Seminary.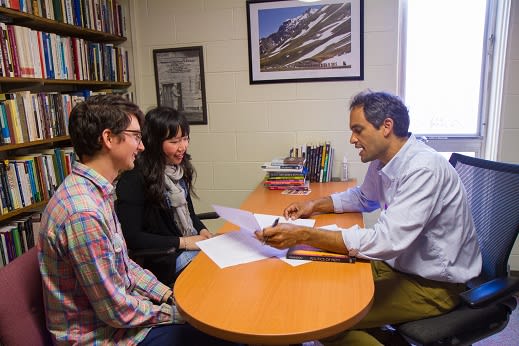 About the Bible and Religion Program at EMU
Our exciting curriculum
The Bible and religion department offers unique and challenging courses in the following areas:
Anabaptist Biblical perspectives
Bible and religion
Biblical studies
Church studies
Peacebuilding and development
Philosophy
Religion
Theology
This is a comprehensive list. These courses are not offered every semester or even every year.
Explore ministry: Ministry Inquiry Program
The Ministry Inquiry Program is an exciting opportunity of the Mennonite Church USA for college-aged young adults to explore pastoral ministry. The program offers the opportunity to experience firsthand what ministry is and to test your own gifts and sense of call. Participants work under the supervision of a pastor and are involved in many aspects of a minister's life and work. Effort is made to place you in the congregation or congregational setting of your choice — urban, rural, large or small.
Make a difference: Peace Oratorical Contest
The annual C. Henry Smith Peace Oratorical Contest offers students an opportunity to discuss peacebuilding and social justice issues on campus. The intercollegiate competition is administered by the Peace and Justice Ministries of Mennonite Central Committee. Undergraduate students from every Mennonite and Brethren in Christ college in North America are eligible to participate.
Connections to seminary
EMU also has a seminary that connects with undergrads in the following ways:
Bible and religion majors and minors can take elective credits at the seminary
Bible and religion majors can fill language requirements in seminary courses like Hebrew
Seminary students provide spiritual direction to undergrads
Seminary students intern with campus ministries and work with residence life as res hall directors
Some scholarships are available to Bible and religion majors to continue their education in seminary
Majors
Biblical Studies (45SH)
This curriculum provides a foundation in biblical studies with a focus on methods of Bible study for the student anticipating secondary Bible teaching or graduate-level seminary study. Students receive extensive exposure to theological topics and to contemporary issues of biblical interpretation and the meaning of Christian discipleship. This major requires the 27 hours of core courses listed above plus 18 hours for a total of 45 hours.
Congregational and Youth Ministries (48SH)
This major prepares students to answer Christ's call to ministry within congregations in the context of rapidly changing, pluralistic and diverse Western culture. The major prepares students for service in fields such as youth ministries, urban missions, and congregational leadership, and is also a foundation for graduate-level seminary studies in church and ministry leadership. This major requires the 27 hours of core courses plus 21 hours for a total of 48 SH.
Religious and Intercultural Studies (48SH)
This major is designed to prepare students for intercultural careers, including mission and service assignments in contemporary Northern settings or in the global South. It may also serve as the foundation for graduate studies in fields such as anthropology, religious studies or missiology. The program includes the study of cultures, the meaning and value of religion within them, and the implications cultures and religions have for varied forms of Christian witness. Students in the RIS major are strongly encouraged to attend the Urbana Missions Conference (held every three years, including 2012) one time during their study program. Those who do so may earn one semester of independent study credit as an additional elective, working with their faculty adviser (CHST 499—1 SH). This major requires 27 hours of core courses plus 21 hours for a total of 48 SH.
Philosophy and Theology (48SH)
The philosophy and theology major is for students with special interests in these fields. It is designed to be foundational for further study in graduate school or as a complement to other academic disciplines. This major requires 27 semester hours of theology, biblical studies, and religion courses, and 21 hours of philosophy courses, for a total of 48 semester hours.
Bible and Religion (36SH)
This is a major available only to students who are double majors. It is designed for students with an interest in bi-vocational ministry as well as to encourage students from other majors who wish to add a Bible and religion department major and still be able to graduate in four years. This major requires 21 hours of core courses plus 15 hours in one of four concentrations for a total of 36 SH. Concentration options include Biblical Studies, Congregational and Youth Ministry, Religious and Intercultural Studies, and Philosophy and Theology.
Last updated Feb 2018
About the School
An EMU education helps students to discover their purpose in life and prepare to make a difference for the common good at home and around the world. EMU's rigorous academics emphasize one-on-one relat ... Read More
An EMU education helps students to discover their purpose in life and prepare to make a difference for the common good at home and around the world. EMU's rigorous academics emphasize one-on-one relationships with professors, cross-cultural awareness, care for creation, and service to others.
Read less