Bachelor's in Business Administration/International Business
Home ›
Bachelor ›
Bachelor's in Business Administration/International Business
Program Description
Business and Economics
Business Administration Major
At EMU we prepare you to be successful, to promote the common good and to be an active leader in today's marketplace. Our professors will help you increase your business knowledge, learn important hands-on skills, and develop a values-based approach to business and management.
Our graduates understand the value of people in business and know how important meeting economic need is to the state of the world and the peacebuilding process. We're committed to excellence, ethics and social justice, and we encourage study across disciplines, a focus on sustainability, and the development of a global perspective. At EMU you'll:
study in a cross-cultural setting
consider sustainability and stewardship in decision-making
collaborate on original research with faculty with industry experience
put your classroom learning to use in off-campus internships
learn to work effectively in teams and hone communication and financial skills
learn from professors who've lived and worked internationally
About 90% of the 2012 graduates who responded to our survey were employed full-time, in grad school, or serving in a volunteer/mission position within one year of graduation. EMU business alumni consistently rank high on nationally standardized business exams, with many pursuing graduate degrees in their majors.
A new study suggests that business administration is one of the five most employable majors.
The major in business administration provides a general background for people entering a career in business.
Courses
Core courses
BUAD 221 Principles of Management
BUAD 301 Quantitative Decision Making for Business
BUAD 331 Organizational Behavior
BUAD 461 Management Policy
plus following:
BUAD 411 Business Law
BUAD 441 International Business
ECON 212 Principles of Macroeconomics
CON 311 Contemporary Economic Issues OR
ECON 401 Economic Development OR
ECON 411 International Economics
MKTG 301 Principles of Marketing
MKTG 311 Research Methods and Statistics
ACTG, BUAD, ECON, FIN or MKTG electives (excluding BUAD 111)
Business administration graduates are working in management, sales, banking, production supervision, program management and other positions requiring skills in leadership, planning, organizing, and implementation.
Business administration major Kathryn Taylor interned at Dynamic Aviation where she honed her communication skills while managing clients. Fellow business major Isaac Wyse was interested in analytics and interned at a nearby manufacturing company. Tasked with improving the efficiency of the welders, Isaac used quantitative methods and waiting for line simulations to achieve his goal.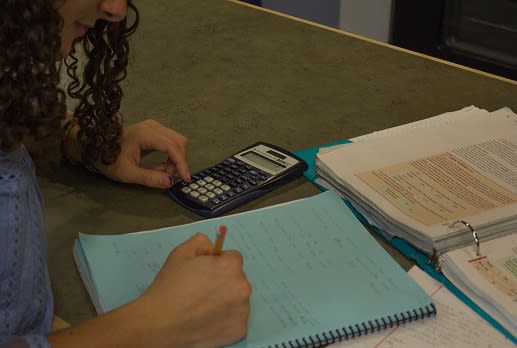 Minors and concentrations
Students can develop a specialty by adding a minor or the human resources concentration.
Those interested in managing computer information systems should add a computer science minor, which consists of 18 SH determined between students and their advisors. Recommended courses include CS 230 Networking and Data Communications, CS 270 Databases and Information Management, and CS 470 Project Management.
Major in International Business
Our program in international business will prepare you for a management career in the international environment. This 60 SH major is grounded in an interdisciplinary approach – an understanding of social structure, language, religion, and culture (in addition to a wide range of business skills) are essential to the success of the international business.
Courses
Core courses plus the following:
BUAD 441 International Business
ECON 211 Principles of Microeconomics
ECON 401 Economic Development
ECON 411 International Economics
MKTG 301 Principles of Marketing
MKTG 411 International Marketing
HIST Area Studies (HIST 212, 251, or 432) OR
POL 201 Comparative Government
PXD 375 Globalization and Justice OR
PXD 485 Sociology of International Development
REL 223 World Religions
REL 334 Cultural Anthropology: Christianity and Social Change
Real-world internships and careers
EMU business majors Nick Miller, Josh Mann and Sam Buck saw Europe through a business perspective when they spent a semester with the International Business Institute. They toured major EU corporations and agencies, like the European Central Bank, and learned what daily life is like for business managers and entrepreneurs in Europe.
And international business graduates like Eric Reinford, who now works in the London branch of SNL Financial, a data/news company that originated in Virginia and covers financial institutions, are working to effect global change in the business world.
Life in another culture
The major requires foreign language competency through the intermediate level.
International business majors are also required to take part in a semester-long cross-cultural experience in order to develop skills in cross-cultural understanding, living, and communication or an alternative program like the International Business Institute, a summer-long program of formal business study in Europe.
Other options are the business track of the Council for Christian Colleges and Universities Costa Rica study program and the Brethren Colleges Abroad programs, which focuses on language study in a variety of locations throughout Latin America, Asia, and Europe.
Last updated Feb 2018
About the School
An EMU education helps students to discover their purpose in life and prepare to make a difference for the common good at home and around the world. EMU's rigorous academics emphasize one-on-one relat ... Read More
An EMU education helps students to discover their purpose in life and prepare to make a difference for the common good at home and around the world. EMU's rigorous academics emphasize one-on-one relationships with professors, cross-cultural awareness, care for creation, and service to others.
Read less