Program Description
Economics is about solving problems and improving people's lives, trying to understand how people behave, and at the UFM Faculty of Economic Sciences, the career has been designed to understand complex phenomena, from ethical, legal principles and economic that support a society of free and responsible people.
The Francisco Marroquín University was recently highlighted as the best place in the world to study free market economics, occupying the first place in the TOP FIFTY PLACES TO STUDY CLASSICAL ECONOMICS list.
"No school has led the study of classical economics with more enthusiasm than Francisco Marroquín University in Guatemala City."
(by thebestschools.org)
One of the main advantages of studying economics at the Francisco Marroquín University, is that its branch of application is very wide. In the words of our students, "if one understands how we interact and make decisions, we can get answers for almost every question we ask ourselves every day."
The learning experience at the Faculty of Economic Sciences of the UFM, is characterized by its academic rigor and the passion we all have to learn. We constantly investigate the best content and the most innovative methods, with the purpose of raising the quality of student learning, in an environment that promotes questioning, innovation and entrepreneurship.
You will get to know in depth the traditions of institutional, Austrian, experimental, monetarist and neoclassical economics, thanks to international professors who are experts in economics.
Additionally, students prepare in an environment with a global perspective, where they will have the opportunity to receive classes and seminars with professors who are experts in classical liberal economics from around the world. This, complemented with experiences of academic trips and participation in seminars that will allow them to deepen the topics that they are most interested in.
Within the program of economics studies students will have the opportunity to choose a specialization in Finance, to learn how to make financing and investment decisions and lead teams in a business environment. Within this specialization you can learn how to take risks, calculate returns, and even visit the stock exchange in New York to learn firsthand how they make these high-level executive decisions.
Other options for specializations and minors include Entrepreneurship, Politics and Philosophy, Marketing, Data Science and Operations Management.
"The University Francisco Marroquin is a great place for students to come study economics because the faculty here really understands how markets work, and teach the value of liberty and economic liberty better than anybody else in Latin America."
(Ben Powell, Director of Texas Tech University and Free Market Institute)
There are a few places anywhere in the world, where a person can come and get an unbelievable quality education in a wide variety of disciplines and fields. You do so in a setting that values the principles, ideals and the ethics of the free society.
(Richard Ebeling)
Last updated Mar 2020
About the School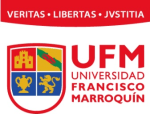 Nuestra misión es la enseñanza y difusión de los principios éticos, jurídicos y económicos de una sociedad de personas libres y responsables.
Nuestra misión es la enseñanza y difusión de los principios éticos, jurídicos y económicos de una sociedad de personas libres y responsables.
Read less