Bachelor of Media Design in Motion Design
Program Description
Making text, illustrations, and images move in music videos, television commercials and films is the specialty of the Motion Graphics Designer. Specialise in Motion Design and we'll teach you key technical skills such as 2D and 3D animation, visual effects, composition, image manipulation and text choreography so that you have the experience and evidence of working to a variety of client briefs.
Careers & Industry
The design comes to life as you develop motion graphics for commercials, title sequences, music videos, and television. The course includes 2D and 3D animation, visual effects, composition, image manipulation and text choreography. Graduates enter the industry with a portfolio that showcases their ability to answer client briefs, collaborate across multiple disciplines and experience working in production.
Motion Designers can go on to work in:
Television;
Advertising;
Production houses;
Corporate event companies;
or as a freelancer
Course Outline
Year 1
An introduction to theory, professional practice and broad principles that allow you to respond effectively to briefs. You are also immersed in the studio to develop practical and ideation skills. Majors are introduced through theory and studio components.
Year 2
Build on knowledge gained in the first year with an emphasis on the production of innovative video and motion graphic campaigns for TV commercials, music videos, and logo animation. Acquiring the essential skills in communication, pitching, and collaboration are a critical part of the year. Students are also armed with strategies and methods to develop their own line of inquiry.
Year 3
The final year covers essential business methods, research methods, and project management before an interdisciplinary group project challenges you to synthesize your knowledge and skills as part of a creative team. You will also embark on a half-year, practice-based investigation of motion graphics.
Study in Adelaide
Media Design School has partnered with Torrens University Australia to offer a selection of our award-winning programmes in Australia. Torrens University Australia, the first comprehensive Australian university to be opened in more than 20 years, will be offering Media Design School's courses in two exciting locations: Sydney, New South Wales and Adelaide, South Australia. These degrees will be of particular interest to students who want to obtain their qualification in a shorter period of time, as Torrens University Australia offers students the opportunity to complete their degrees at an accelerated pace in two years, not three.
Study in San Diego
Media Design School has partnered with fellow Laureate Design University, NewSchool of Architecture and Design in San Diego, USA, to offer our award-winning Media Design course in a city renowned for embracing digital and creative technologies. Located in the same city as the iconic San Diego Comic-Con International, the Bachelor of Science in Media Design will give students the creative and technical skills needed to enter the gaming industry.
Last updated Feb 2018
About the School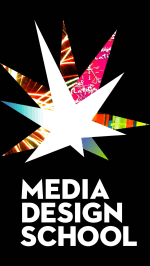 Media Design School is New Zealand's most-awarded tertiary institute for digital and creative technology qualifications
Media Design School is New Zealand's most-awarded tertiary institute for digital and creative technology qualifications
Read less