Bachelor of Engineering (Honours) in Aviation Engineering
Home ›
Bachelor ›
Bachelor of Engineering (Honours) in Aviation Engineering
Program Description
The credit requirements for this programme are indicative only. They are subject to review. Preference will be given to first-choice applications.
Programme Aims
This programme aims to produce highly skilled graduates with:
In-depth understanding of the operation of aviation engineering, including aircraft and aviation systems, airworthiness and up-to-date technologies, as well as specialized knowledge in a chosen stream of study;
Competence to handle different engineering problems academically and practically in the aviation industry;
Sufficient knowledge to manage and solve problems through effective and efficient project management and planning; and
Confidence in communication with different stakeholders through the use of state-of-the-art technologies and aviation languages (both English and Chinese).
Characteristics
The Aviation Engineering programme aims to train students to become aeronautical and aviation engineers with strong skills in and in-depth knowledge of engineering and engineering management, and with a sense of social and environmental responsibility. Graduates are able to pursue careers in aircraft component design and engineering, aircraft maintenance engineering, aviation engineering operations and management and many other areas.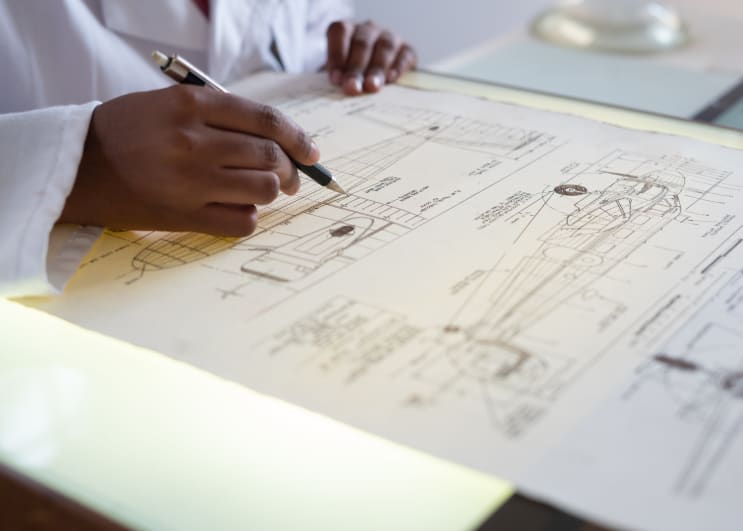 Curriculum
Academic and Training Credits
For students with Level 2 or above in HKDSE Physics (or Combined Science with a component in Physics), or equivalent qualifications, 124 academic credits and 10 Industrial Centre Practical Training credits are required for graduation.
For students without Level 2 or above in HKDSE Physics (or Combined Science with a Physics component) or equivalent qualifications, an additional 3 credits in Introduction to Physics should be taken.
The 124 academic credits consist of 30 mandatory credits of General University Requirements (GUR) and 94 credits of Discipline-Specific Requirements (DSR).
| | |
| --- | --- |
| First Study Year | Second Study Year |
| Students receive a broad education in mathematics and science and learn about the role and responsibilities of an engineer. This gives them a strong foundation for studying subjects dedicated to aviation engineering in the years that follow. | Students acquire fundamental knowledge of aircraft and aviation systems and gain hands-on experience of aircraft component manufacturing and maintenance. |
| Third Study Year | Final Study Year |
| Students embark on more advanced subjects, such as aircraft design, aviation safety, stability and control, propulsion systems and avionics systems. | Students have the opportunity to apply their skills and knowledge in a final-year project and focus on an elective stream to acquire specialised knowledge. |
Stream of Study
Students can choose to pursue one of the following study streams:
Aircraft Services Engineering
Aeronautical Engineering
Aircraft Maintenance Engineering*
Introduction to Pilot Ground Theory**
* Students who opt-for HKAR147 (B1.1) licenced aircraft engineer training are required to choose the Aircraft Maintenance Engineering stream.
** Students who are interested in attending the Airline Transport Pilot's Licence (ATPL) upon graduation are strongly recommended to attend these four electives.
Other Learning Experiences
Summer internships, industrial visits, on-site experience sharing and industrial training are arranged to complement classroom teaching and enhance students' learning and industrial experience in the field of aeronautics and aviation. Industrial training is provided by the PolyU Industrial Centre.
The programme provides aviation engineering and societal knowledge in a range of areas, including the following:
Aircraft flight mechanics, dynamics and stability
Aircraft systems and avionics
Aircraft-design and structures
Aircraft propulsion systems
Aviation safety, reliability, airworthiness and compliance
Work-Integrated Education (WIE)
Students are required to receive at least two weeks of full-time WIE training in a suitable organization before graduation.
Professional Recognition
This programme has been granted provisional accreditation by the Hong Kong Institution of Engineers (HKIE). Full accreditation will be sought in 2020.
Career Prospects
Graduates are able to seek employment as professional engineers in aviation engineering fields such as aircraft component design, manufacturing and maintenance, in-air transportation and logistics, airport engineering operation and civil aviation.
Entrance Requirements
PolyU welcomes applications from qualified candidates from around the world. The following guidelines are for the reference of students who wish to seek admission to PolyU based on non-local qualifications. Qualifications that cannot be found below will be considered on a case-by-case basis.
GCE A-level / International A-level

GCE Advanced Level or International Advanced Level with passes in 3 AL, OR 2 AL and 2 AS, subjects

(This is only the minimum eligibility criteria. Applicants who gain admission, typically, attain at least BBB in 3 AL subjects.)

International Baccalaureate (IB)

A minimum score of 24 with at least grade 4 in 2 Higher Level subjects

(This is only the minimum eligibility criteria. Applicants who gain admission, typically, attain a score of 30 or above, including bonus points.)

SAT Reasoning Test/ACT/Advanced Placement Test/SAT Subject Tests

A High School (Graduation) Diploma (non-Chinese curriculum) and any one of the following:

a total score of 1190 in the SAT Reasoning Test; or
an American College Test (ACT) composite score of 24;

and

grade 3 in two Advanced Placement (AP) subjects; or
a score of 600 in two SAT Subject Tests

[English language requirement is waived for those attaining a score of 590 or above in the Evidence-based Reading and Writing in the SAT]
Applicants with good results in the GCE A-level / International A-level or International Baccalaureate (IB) can be granted up to 25% credit transfer upon admission to the 4-year degree curriculum.
Testimonies
Before I describe my time at PolyU, I'd like to say that no matter what your background or your dreams are, always keep working hard and always stay true to yourself. The seed you sow now will bear fruit in good time.

My first year at PolyU was nothing short of revelatory for me. Never has a balance between my social life and academic life been so good. PolyU gives us the opportunity to be ourselves while also becoming better students and individuals. As a future engineer, I hoped for hands-on experience rather than just absorbing theoretical ideas, and I wasn't disappointed. The Industrial Centre classes were perhaps the most enjoyable lessons I've ever had, due to their practical nature. Working with machines, designing parts and handling projects illustrates just how good a university PolyU is. Not only are we given the basic theoretical knowledge, but we are also taught the valuable practical skills that each and every engineer must possess.

We were told about PolyU's motto and how much it means to all of the staff; certainly, at PolyU, we can apply what we learn for the benefit of mankind.

Khan Raafey Masood





Even as a child I was fascinated by the magical subject I now know as engineering. From magnets attracting each other to aeroplanes touching the horizon, I questioned everything with equal curiosity. As I was introduced to physics concepts, I started realising how this magic worked – we are the magicians.

The Hong Kong Polytechnic University takes a holistic approach to nurture the brain. I was fascinated with the hands-on experience I received in my very first year in the Industrial Centre, along with the theoretical knowledge I gained. I not only fulfilled my desire to carry out practical work but also learned how to work as a team. This showed me what I was truly capable of.

The opportunities at PolyU perfectly resonate with my own ambitions and aspirations, providing the perfect setting to grow as a person, student and prospective leader who wishes to help the world at large. By delving into the evolving field of Aviation Engineering at PolyU, I hope to connect my desire to see progress in my community with my natural curiosity about how things work.

I would advise young engineers to apply to this programme and to always try hard and believe in themselves.

Ahmad Mughees
Last updated Oct 2020
About the School
With 80 years of proud tradition, PolyU is a world-class research university, ranking among the world's top 100 institutions. The Hong Kong Polytechnic University (PolyU) is a home for educating think ... Read More
With 80 years of proud tradition, PolyU is a world-class research university, ranking among the world's top 100 institutions. The Hong Kong Polytechnic University (PolyU) is a home for educating thinkers, communicators, and discoverers in delivering positive impact. We are committed to training tomorrow's leaders today, through a professionally-oriented education that delivers graduates unrivaled placements to thrive in businesses and industries. We strive for inter-disciplinary research and impactful innovations for discoveries to solve real-world challenges. Our researchers are developing breakthrough ideas, fostering sustainability, lifting economic outcomes, and improving communities' lives for the benefit of Hong Kong, the nation, and the world.
Read less