Program Description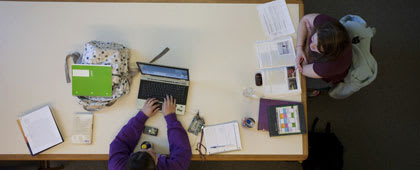 Liberal Studies Curriculum (LSC)
At St. Mike's, we want our graduates to take on the world as thoughtful intellectuals who aren't afraid to take risks and think differently.
Our Liberal Studies Curriculum will help you do just that.
We prepare you for life after college with a dynamic range of courses designed to foster intellectual curiosity and exploration and help you answer life's most profound questions.
You'll be introduced to the breadth and diversity of knowledge itself. You'll be exposed to many academic disciplines that will challenge you to think critically, express yourself, and become a lifelong learner. And, you'll learn what it means to contribute to the common good as a concerned and thoughtful citizen.
Curriculum
The Liberal Studies Curriculum consists of 11 to 13 courses with considerable choice within the categories. Advanced Placement, transfer, and study abroad credit may also apply. A list of individual courses in each area can be found in the college catalog. Here is the LSC at a glance:
First Year Seminar courses are writing-intensive courses that explore broad questions in the liberal arts and sciences by encouraging discussion and active learning. A small class size allows instructors to get to know students well and to work closely with their writing. Students work cooperatively, creating a small and engaged community of learners.
Fundamental Philosophical Questions courses provide students with resources for exploring the questions at the heart of achieving an integrated vision of human reality. Courses examine such questions as the ground of existence, truth, goodness, beauty and their significance for illuminating the conditions that foster human understanding and a life expressive of human dignity.
Study of Christian Traditions and Thought courses explore the nature of religion, acquaint students with the academic study of religion, examine the Catholic and broader Christian tradition in a critical and coherent manner, and enable students to understand religious belief, practice, and traditions.
Global Issues that Impact the Common Good courses explore social, cultural, political, economic, or other conditions that enhance and hinder the full development of individuals and societies. These courses emphasize the interdependence among people across the globe, as well as the increasingly universal and complex nature of the rights and duties of individuals and societies.
Historical Studies courses encompass rigorous examinations of cultural, artistic, intellectual, social and political movements, influences, and events through time. Research and writing are key components of these courses.
Literary Studies courses focus on an analytic and aesthetic interrogation of literary texts with emphasis on the way language is used in a variety of periods, cultures, genres and styles to produce meaning.
Processes of Scientific Reasoning courses study the physical and natural world and modes of inquiry utilized by the sciences.
Quantitative Reasoning courses use quantitative reasoning to evaluate and solve problems.
Second Language courses give students the benefit of acquiring at least a low-intermediate level in a second language and learning about the area(s) of the world and culture(s) associated with that language. An added benefit is that students will come to understand more about their first language and its distinct features.
Social and Institutional Dimensions of Human Behavior courses allow students to apply critical thinking skills to the understanding of human behavior. Students consider the dynamic interactions among social systems and their impact on human well-being.
Artistic Experience courses engage students in artistic expression through the studio, workshop or practice-based courses in such fields as creative writing, dance, music, studio art, or theatre.
Experiential Learning is fulfilled as part of either a student's curricular or co-curricular activities. Students engage in at least one substantial "hands-on" project that takes them beyond the confines of the classroom and relates theory to practice. Options might include, but are not limited to, internships (credit/ non-credit, unpaid or paid), student-faculty research, study abroad, service learning designated courses, MOVE service trips in which the opportunity to participate is competitive, participation in dance, music, or theatre performances, participation in the college's Fire and Rescue Program, work as a Resident Assistant, and student leadership in LEAP, the College's Wilderness Program, the Writing Center, the Peer-Tutoring Program, an intercollegiate athletic team, or the Edmundite Campus Ministry.
Internship
Community Engaged Learning
Faculty-Student Research
Study Abroad
Designated co-curricular experiences
Career Paths
The liberal arts and sciences are the firm foundation for every career. Throughout your working life, you will need to be able to absorb new information, think critically, write and speak clearly, form and defend arguments, adapt to new situations, and understand cultural contexts. The liberal arts and sciences train you in these core competencies so you are ready to meet a variety of challenges.
Last updated Feb 2018
About the School
Saint Michael's College, founded in 1904, delivers a compelling, world-class liberal arts education in a beautiful Vermont setting. Our connected community allows students to form close relationships ... Read More
Saint Michael's College, founded in 1904, delivers a compelling, world-class liberal arts education in a beautiful Vermont setting. Our connected community allows students to form close relationships with each other and accomplished faculty members, providing an ideal learning environment where they have the space and support to challenge themselves and their peers. As a college located minutes from Burlington, one of the country's top-rated college towns, Saint Michael's offers an unparalleled mix of academic, spiritual, cultural, service and wilderness experiences. To learn more, visit smcvt.edu.
Read less