Program Description
During the past ten years, experts with knowledge in the field of software engineering have been the most sought-after group among all IT professionals employed in the Republic of Croatia and account for about 50% of the total employment in IT sector. Their careers are closely linked to dynamically developing technologies an advantage in their employment is achieved by industry certifications which, in addition to professional recognition, provide better financial working conditions and simplify access to European and international employers. Therefore, the study program in software engineering has been prepared with the emphasis on previously mentioned specific qualities and dominant technologies of today (.NET and JAVA) in order to ensure advantages in the career development of computer engineers in comparison to graduates of other similar (professional) study programs. This is why the sub-specialization Software Engineering provides training in programming, development, and maintenance of complex applications and information systems. Additional specialization is possible through elective courses, seminar papers, and final thesis. The study program provides employment opportunities for positions of the system and network administrators.
The total duration of the study program is 3 years or 6 semesters. Each year of study (two semesters) is valued with 60 ECTS credits. During the final sixth semester, students prepare their final paper/project which is carried out as a part of their professional practice and rated at 14 ECTS credits. The total number of ECTS credits required to complete the study program and obtain a diploma is 180 credits.
The study program is organized in study years. A necessary condition for the enrolment in the next year of study is the completion of the previous year, i.e. the completion of exams of the previous year in the minimum number of ECTS credits prescribed by the Book of regulations on study (it is not necessary to pass all exams). Students enroll in the next year of study in the winter semester, and enrolment in the summer semester of the same year is carried out automatically. The obligations of students for each particular course are determined by the teacher in charge of the course and announced before the beginning of classes within the digital student service system.
DURATION OF THE STUDY PROGRAM
Classes are conducted during a period of six semesters or three years, with the sixth semester being dedicated mainly to the narrower professional guidance of students and preparation of their final paper. The duration of classes is 15 weeks per semester. The first semester and almost the entire second semester are common to all three sub-specializations/undergraduate study programs in the field of computer engineering, while mutual courses are present in other semesters as well, but in smaller numbers than during the first year of study. Classes are scheduled and adapted to the needs of students, especially of those students who work and study.
Professional practice, which can be used as a basis for the development of the final paper, can be completed in cooperation with renowned employers in the Republic of Croatia or in the EU through funding from the Erasmus program.
PROFESSIONAL TITLE ACQUIRED
The professional study program is completed by passing all exams and acquiring a minimum of 180 ECTS credits including the completion of professional practice and preparation of the final paper. The professional title acquired is in accordance with Article 74 of the Act on Scientific Activity and Higher Education, consolidated text (Official Gazette, No. 123/03, 198/03, 105/04, 174/04, 02/07, 46/07, 45/09, 63/11, 94/13, 139/13 and 101/14) and the Act on Academic and Professional Titles and the Academic Degree (Official Gazette, No. 107/07 and 118/12).
By completing their studies, students acquire the professional title of Bachelor of Computer Engineering in corresponding sub-specialization, which corresponds to the degree of Baccalaureus, B.Comp.Eng.
COURSES
Accessing Data from Program Code
Advanced Administration of Open Source Operating Systems
Application Development for Mobile Devices
Basics of Business Communication
Basics of Business Economy
Basics of Digital Electronics
Collaboration Systems
Computer Architecture
Computer Support for Office Administration
Cryptography
Data Structures and Algorithms
Database Administration
Database Development
Decision-Making Support Systems
Development of Final Project/Professional Practice
Development of Web Applications
Distributed Applications and Component Programming
English for IT
Implementation of Information Systems
Information Systems in Business Administration
Internet Technology Application Standards
Interoperability of Information Systems
Introduction to Computer Networks
Introduction to Databases
Java Programming I
Java Programming II
Java Web Programming
LDAP Systems
Management of Information Systems
Managing Project Risks
Mathematics I
Mathematics II
Object-Oriented Programming
Object-Oriented Programming – lab in .NET environment
Operating Systems
Organization and Management
Planning and Auditing of Information Systems
Possibility and Statistics
Programming
Project Development of Applications
Project Management Methodology
Security of Electronic Operations
Security of Information Systems
Software Engineering
Virtualizacija IT infrastrukture
JOBS FOR WHICH STUDENTS ARE QUALIFIED
The list of jobs for which students are qualified is defined through the analysis of employers' needs for particular positions advertised in this field. In doing so, it is especially taken into account which positions employers are looking for at a particular level of education. In addition, since the study program is structured through a relatively large number of elective courses that are related to a particular sub-specialization, specific knowledge, and certain jobs will be available in accordance with the elective courses students have attended and passed. Jobs for which students will be qualified are:
development of complex computer desktop applications and web use of object-oriented technology,
development of computer applications for mobile devices and development of distributed applications,
design, development, and programming of computer databases,
management of information system and planning of its development,
project management or participation in application development projects with thorough knowledge of methodology,
understanding of market operations, management and business organization at the level of department or small business,
development of business information systems and business decision-making support systems with the understanding of functional requirements,
basic auditing of information systems from the applicative aspect,
customer support with the implementation and use of IT applications.
Last updated Feb 2018
About the School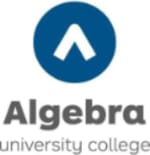 Based on the trends recognized in employment of IT qualified professionals through the analysis of employers' needs and based on analyzed characteristics of the labor market in Croatia, the project of ... Read More
Based on the trends recognized in employment of IT qualified professionals through the analysis of employers' needs and based on analyzed characteristics of the labor market in Croatia, the project of establishing Algebra University College was launched in 2006. The goal of the founders was to create a top quality professional higher education institution that was, along with its program, staff and teaching material, ready to meet the demands of employers and the labor market.
Read less