Bachelor in Political Science and International Relations
Home ›
Bachelor ›
Bachelor in Political Science and International Relations
Program Description
Political Science and International Relations
Political Science and International Relations cover a large variety of diverse areas such as: how states, organizations, and institutions interact at state and international levels; channels of communication and networks that have evolved through the process of globalisation; the foreign policies of states; democratization processes; political parties and electoral systems; state structures; national and international security; and the impacts on societies during these processes.
Who are we?
The Department of Political Science and International Relations at BAU presents a unique experience for its students to hone their skills in Political Science and International Relations. The students who choose BAU will find the opportunity to be taught by a wide range of skilled scholars with a long-standing research expertise and teaching experience at prominent universities abroad. What makes our department different is our expertise in a variety of fields such as quantitative and qualitative research on political parties, electoral systems, and voting behavior; public opinion; international security; post-conflict reconstruction; legitimacy of international institutions; Turkish foreign policy; political theory; Turkish politics; gender studies; EU politics and the EU as a global actor; American politics; politics of the Middle East; international migration; and border security. Our department provides high-level teaching informed by areas of research specialization and our faculty has a strong international publication record. Our academic staff is often called upon by governments to provide policy advice on national and international matters and work with practitioners involved in advisory work in policy planning. They have regular appearances on national and international media and lead national and international projects
What skills will students acquire throughout this course?
As our wide range of courses demonstrates, our daily lives always demand an understanding of fundamental politics and it exists in every aspect of modern-day societies. In a nutshell, students who take these courses will be able to understand political theory theories of international relations, governance and political concepts, characteristics of leadership, governmental decisions, treaties, foreign policy initiatives, alliances, interventions and peace settlements; will be able to distinguish between different political governments and regimes; will learn specific political institutions and the ways they function. They will also find the opportunities to observe world politics in a globalizing world and its different applications. The complexity and variety of political phenomena, both in the past and in the contemporary world will be showcased and students will be given the necessary tools to understand, evaluate and critically analyze these complexities.
The BAU difference in Politics and International Relations
Situated in the Beşiktaş Campus, a very central and picturesque area of Istanbul, the Department of Political Science and International Relations aims to provide the perfect studying environment for students with many extra-curricular activities and present the chance to study in the fields mentioned above by a highly skilled staff. The students also find the opportunity to regularly interact with politicians, experts from think tanks, NGOs, journalists, and advisors by helping out and attending many conferences and events the department organizes. In a very heterogeneous, multicultural and globally mixed student environment, with the added opportunities of traveling abroad, the department aims to enhance the learning process for prospective students.
Course Structure Diagram with Credits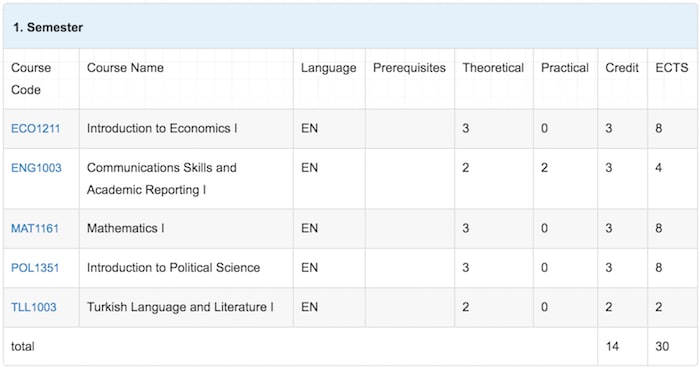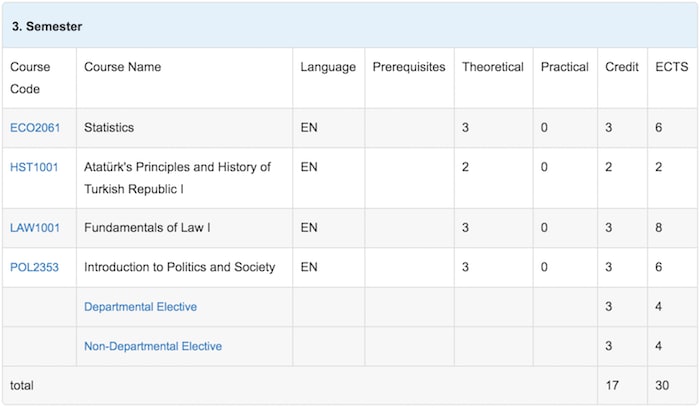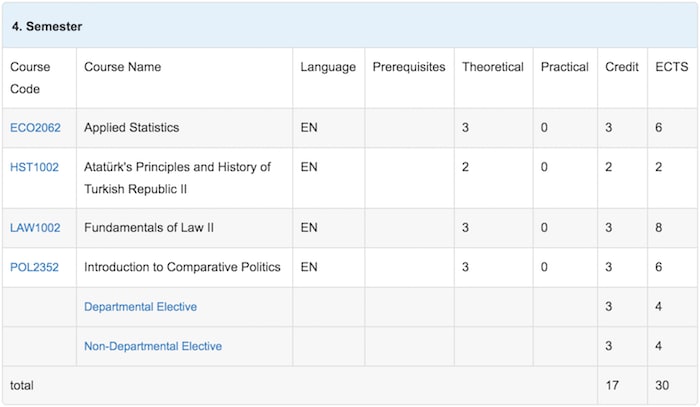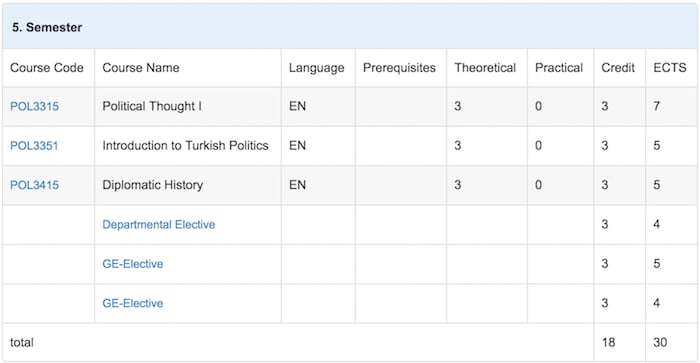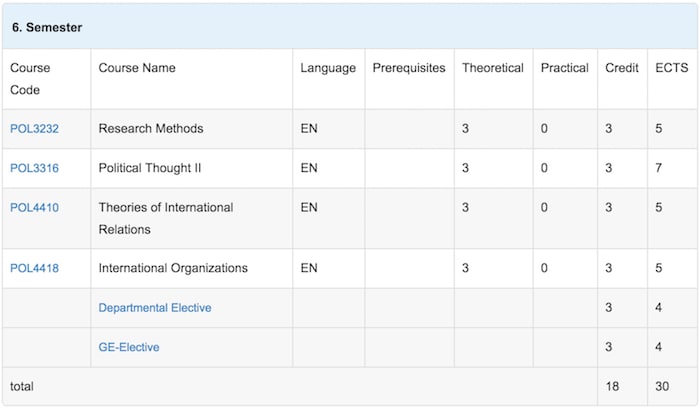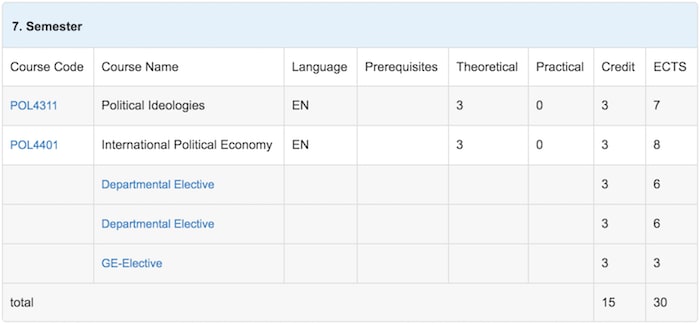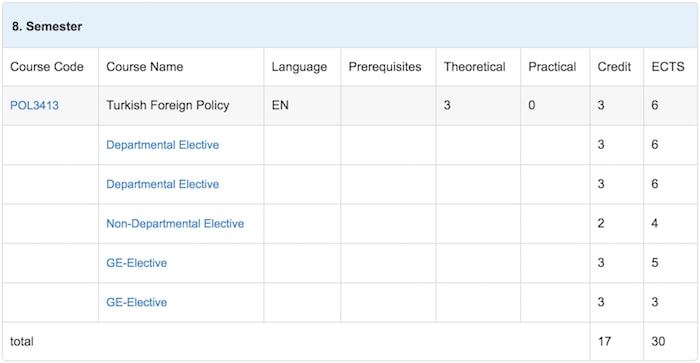 TR marked courses are taught in Turkish.
EN marked courses are taught in English.
There TR-EN marked a section of courses in both English and Turkish.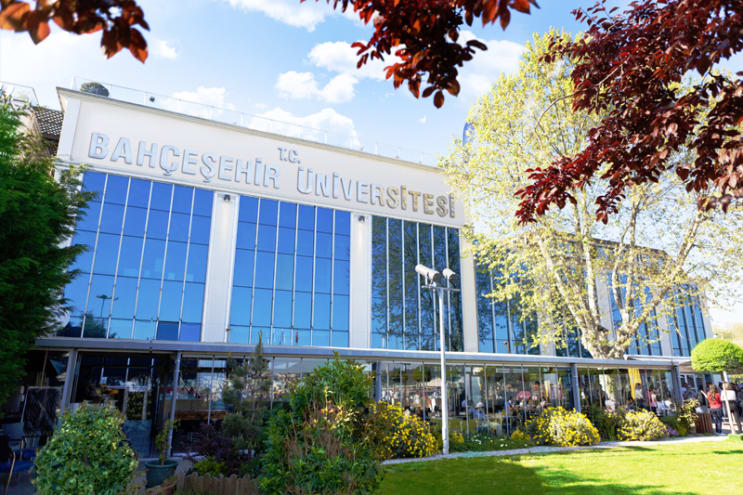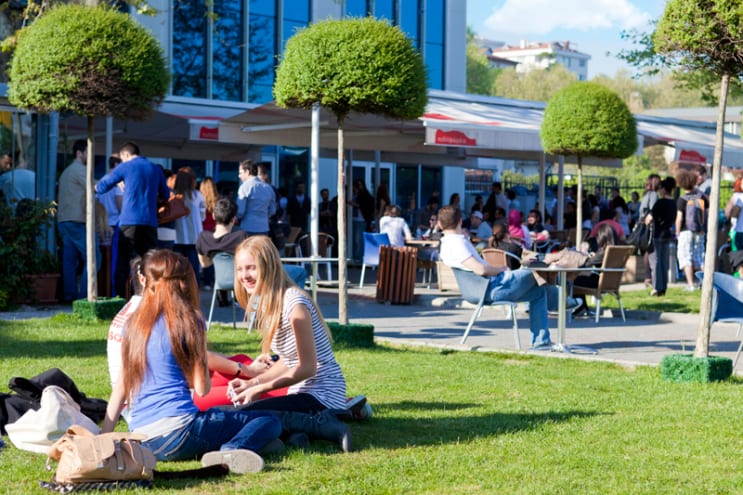 Last updated Feb 2019
About the School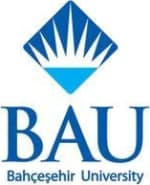 The slogan "At the heart of Istanbul" is suitable for a university like Bahcesehir University (BAU). With its main campus on the edge of the Bosphorus in Besiktas each day begins early with rapid mobi ... Read More
The slogan "At the heart of Istanbul" is suitable for a university like Bahcesehir University (BAU). With its main campus on the edge of the Bosphorus in Besiktas each day begins early with rapid mobility and continues throughout the day. Moreover, it is possible to encounter an event at almost every part of the university.
Read less