Bachelor in Mechanical Engineering
Program Description
Mechanical engineering is one of the core disciplines of engineering and it encompasses a large number of subdisciplines that are at the heart of both traditional and leading edge technologies. It is a broad profession concerned with activities such as energy conversion, power generation, design, and manufacturing. The theoretical and technical bases of knowledge include the pure sciences, mathematics, and the engineering sciences, especially the mechanics of solids and fluids, thermodynamics, and kinematics. Mechanical engineering requires aptitude and interest in the physical sciences and the language of mathematics, and the ability to apply these to societal needs.
The educational objectives of the undergraduate mechanical engineering program at SUNY Korea recognize that students have a variety of career objectives and a choice of industrial environments in which to pursue them.
The mechanical engineering curriculum provides students with a core education in mathematics and the physical sciences along with a broad sequence of courses covering thermal processes and fluid mechanics, mechanical design, solid mechanics, and the dynamic behavior and control of mechanical systems. Students also take courses that introduce them to the use of advanced computational methods for engineering design and analysis as well as data processing and analysis. A series of laboratory courses introduce them to sensors and electronics, modern instrumentation and experimental techniques used in engineering for tasks ranging from product design, evaluation, and testing to research. In addition, students can select electives to provide either higher level academic training in preparation for graduate school or a broader exposure to subjects related to engineering practice to enhance their preparation for a job after graduation.
History
Our undergraduate program is designed to provide students with the detailed mechanical engineering education and training required for immediate entry into the job market. At the same time, the curriculum maintains enough flexibility to enable students to fully prepare themselves for graduate studies and research careers. Mechanical engineering classes are taught by full-time faculty members and undergraduates are encouraged to work directly with the faculty in their technical electives. They also have the opportunities to participate in national and international student engineering competitions. Our Senior Design experience offers students opportunities for solving real-world problems in a multi-disciplinary setting.
Mission
The mission of the Mechanical Engineering Department is to:
provide a program for undergraduate education that prepares students for a career in mechanical engineering and related fields;
provide graduate education and research opportunities for students and practicing engineers;
perform cutting-edge research and provide technology transfer to regional and national industries.
Program Educational Objectives
Prepare graduates for performing their job duties to meet the expectations of employers.
Prepare qualified graduates for advanced studies, if desired.
Student Outcomes
The students will demonstrate the following:
an ability to apply knowledge of mathematics, science, and engineering
an ability to design and conduct experiments, as well as to analyze and interpret data
an ability to design a system, component, or process to meet desired needs within realistic constraints such as economic, environmental, social, political, ethical, health and safety, manufacturability, and sustainability
an ability to function on multidisciplinary teams
an ability to identify, formulate, and solve engineering problems
an understanding of professional and ethical responsibility
an ability to communicate effectively
the broad education necessary to understand the impact of engineering solutions in a global, economic, environmental, and societal context
a recognition of the need for, and an ability to engage in life-long learning
a knowledge of contemporary issues
an ability to use the techniques, skills, and modern engineering tools necessary for engineering practice
an ability to apply the principles of mathematics through multivariate calculus and differential equations
an ability to model, analyze, design and realize physical systems, components, or processes
an ability to work professionally in both thermal and mechanical systems areas.
Last updated Feb 2018
About the School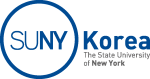 SUNY Korea opened its doors in March 2012 as the first American university established on Korean soil. It is also the first university to join the Incheon Global Campus (IGC). SUNY Korea's degree prog ... Read More
SUNY Korea opened its doors in March 2012 as the first American university established on Korean soil. It is also the first university to join the Incheon Global Campus (IGC). SUNY Korea's degree programs are comparable to prestigious universities in the United States. Students can enjoy both American education and dynamic Korean culture. We cherish moral integrity and strive to teach our students to serve others with virtue and vision of their own. We also offer affordable on-campus housings, a wide...
Read less