Bachelor in Business Management (Accounting & Finance)
Home ›
Bachelor ›
Bachelor in Business Management (Accounting & Finance)
Program Description
The College of Business, introduced to SUNY Korea by Stony Brook University, is the most recent college from Stony Brook to join the SUNY Korea departments. At Stony Brook, it is one of 13 colleges and schools in the University, and it offers a major in Business Management, with specialization choices in Accounting and Finance, leading to the Bachelor of Science degree.
The College of Business at Stony Brook University prepares students for leadership roles, fosters entrepreneurial growth, and conducts cutting-edge research that informs business practice. The College's strong faculty from around the world achieve rigorous standards for research productivity and teaching effectiveness. The College attracts top-quality students and engages them in the highest level of hands-on business education. As a business school at a flagship public research university, we offer our students, faculty, and members of the business community interdisciplinary resources. The College's research and teaching draw upon the sciences, mathematics, engineering, medicine, liberal arts, and fine arts to stimulate opportunities for technological innovation and economic development.
The Business Management major is designed for students who wish to enter the business arena with substantial knowledge and skills across the full spectrum of business disciplines, but who also have a specific interest in either Accounting or Finance. Career opportunities include management positions in financial planning, banking, corporate accounting, public accounting, and more. Students are also prepared for advanced study in both Accounting and Finance, as well as other areas of business. While students have the opportunity to specialize in either Accounting or Finance, they will also take classes in business statistics, decision sciences, and general management.
In just 10 years, the College of Business has enjoyed enormous growth in faculty, research, and academic programs. College of Business faculty is made up of 46 full-time professors and affiliates, including 40 College of Business faculty and 6 members with joint or affiliate appointments, from such departments as Applied Mathematics, Economics, and Political Science. Faculty falls within the research areas of Accounting, Finance, Management (Organizational Behavior and Operations Research/Decision Analytics), and Marketing & Strategy.
The faculty are from the most prestigious universities in the world including, but not limited to, Carnegie Mellon, Karlsruhe Institute of Technology, Northwestern, Sogang University, Tulane, University of California Santa Barbara, University of Michigan, University of Moscow, University of Munster, University of Virginia, Harvard University, and Yale. Many faculty members have a dual affiliation with other Stony Brook departments, including Psychology, Technology and Society, Political Science, and Applied Mathematics, and what's more, they are involved in cutting-edge interdisciplinary centers across campus, including the Center of Finance, Center for Behavioral Political Economy and the Center for Behavioral Finance.
College of Business faculty involve undergraduate students in their research, as well as provide students with experiential learning opportunities, including case studies, client projects, and internships, with the ultimate goal of preparing students as leaders in their field of choice. Students are encouraged to develop and test their business ideas through support in the College's Innovation Center and curriculum in technology innovation and entrepreneurship.
Mission
The mission of the Stony Brook College of Business is to create and disseminate knowledge, prepare students for leadership roles and foster entrepreneurial growth. This is accomplished by:
Emphasizing research and practice across disciplines within and outside of business. Our research meets the highest standards, earning publication in leading academic journals and enlightening other researchers and practitioners.
Providing undergraduate and graduate business education of the highest quality incorporating experiential learning including case studies, client projects, and internships to prepare students for rewarding careers.
Encouraging students to develop and test their business ideas supported by Stony Brook's Innovation Center and curriculum in innovation and entrepreneurship.
Clubs and Events
There are many clubs and events for business students to get involved with while at Stony Brook. Included are an Accounting Society which brings weekly speakers to campus from various accounting firms. The Society, together with the College of Business and Stony Brook University Career Center, sponsors an annual Accounting Networking Breakfast each Fall to connect students to various firms to discuss internship and career opportunities.
There is also a student-run Investment Club, which promotes investment education, invites guest speakers from NYC investment banks and hedge funds (including many College of Business alumni), and plans trips to NYC destinations such as Bloomberg, Federal Reserve, and NASDAQ.
There are many other events for students, including guest speakers, panel events, and career fairs, all of which provide students with expert advice and networking opportunities.
Last updated Feb 2018
About the School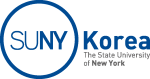 SUNY Korea opened its doors in March 2012 as the first American university established on Korean soil. It is also the first university to join the Incheon Global Campus (IGC). SUNY Korea's degree prog ... Read More
SUNY Korea opened its doors in March 2012 as the first American university established on Korean soil. It is also the first university to join the Incheon Global Campus (IGC). SUNY Korea's degree programs are comparable to prestigious universities in the United States. Students can enjoy both American education and dynamic Korean culture. We cherish moral integrity and strive to teach our students to serve others with virtue and vision of their own. We also offer affordable on-campus housings, a wide...
Read less